News listings
energy-pedia general news

Australia
Australia: Blue Energy completes successful capital raising to fund North Bowen Basin gas projects
13 Jun 2019

Australia's Blue Energy has announced the successful completion of an over-subscribed $4.2million placement to institutional and sophisticated investors comprising approx. 93,333,333 shares at $0.045 per share.
The Placement received strong support from institutional shareholders and sophisticated investors. The purpose of the Placement is to access additional funding to advance Blue Energy's gas projects and activities primarily in the North Bowen Basin and to prosecute the case to develop and connect this large basin-wide gas resource of up to 15,000 PJ of resource to the east coast gas network andindustrial gas users. The net proceeds of the Offer and existing cash will be used for:
Pipeline route studies for the recently awarded PSL 2037 (Pipeline Survey Licence –See Map);
Progression of Production Licenceapplications for ATP 814;
Power generation grid studies in the Hillalong blockof ATP814;
Flexibility for potential drilling activity in ATP 814 or orATP854 in the SuratBasin;
General permit portfolio exploration and appraisalincluding the Northern Territory; and
General corporate and working capital purposes.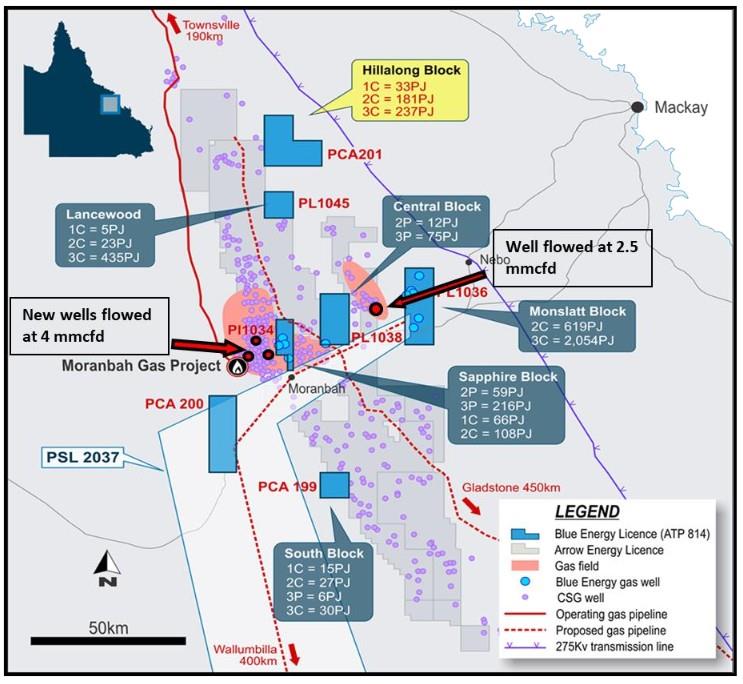 Commenting on the outcome of the Placement, Managing Director John Phillips said:
'These funds will allow Blue to continue the push for the development of the North Bowen Basin gas resources to be connected to the East Coast market and alleviate the persistent supply shortages for Industrial gas users, which Federal and State Governments, together with the ACCC, are seeking to resolve.'
Bell Potter Securities acted as Lead Manager and Bookrunner for the Placement.
Source: Blue Energy
back to top