News listings
energy-pedia exploration

Australia
Australia: Linc Energy to commence drilling 103 Billion BOE Arckaringa Basin in South Australia
03 Jul 2014
Linc Energy commits to drilling three (3) new wells in 2014 to commence late July proving up deeper parts of the Arckaringa Basin to start the process of unlocking the potential 103 Billion Barrels of oil equivalent (BBOE)* in recoverable oil and gas reserves in this unique energy basin.
The South Australian Arckaringa oil basin is going to be a key focus and company driver for Linc Energy going forward.

Linc Energy has announced plans to drill three (3) wells in the Arckaringa Basin in South Australia as part of the next phase of exploration and development of this significant asset. Given the size of the potential resource the Board of Linc Energy has determined that the best option for shareholder value is for the Company to fund the targeted exploration program to better define this basin before the Company considers partnering for phase two or three of development. This program will be funded within the Company's budget.

As part of this strategy, Linc Energy has engaged with Baker Hughes as shale experts and advisors on this program. Baker Hughes has completed a comprehensive study and produced a detailed model on the basin on the following:
Geo mechanical modelling;
Wellbore stability analysis;
Hydraulic fracture design;
Prediction of multiphase flow performance;
Simultaneous inversion analysis of seismic data;
Optimising well planning and design, and
Preliminary development plan to transition the resources to reserves for development.
Conclusions of the study have been used to assist Linc Energy with the design of the three well exploration program to test the deeper more prospective parts of the basin. This drilling program is likely to be focused on the Boorthanna Trough which formed the basis for the majority of the prospective resources separately identified by Gustavson Associates and DeGolyer and MacNaughton as previously announced. To date no previous drilling has intersected the formations at depth and the results of these wells will be critical to understanding the basin in detail.

Samples and core recovered during drilling activity will be sent for analysis of rock layers within the targeted formations with the most prospective source rock. Analysis will include:
Thermal Maturity – to confirm thermal gradient projections in each of the three holes;
Source Rock – to confirm source rock quality of Stuart Range, Boorthanna and pre-Permian formations;
Intersection of at least one of the conventional oil and gas targets identified by Gustavson as a prospective resource;
Logging of all core holes; and
Open hole well testing if moveable hydrocarbons are detected.
Assessment of the data collected in this first phase of drilling will determine the next development steps.

Linc Energy is committed to attempting to flow hydrocarbons in the Arckaringa Basin at the earliest possible opportunity and will, subject to drilling results and Board approval, look to follow up this initial three well program with a further three wells to commence late this year. It is envisaged that based on the success of these 6 wells Linc Energy will enter an aggressive and focused drilling campaign to start to unlock the potential of this 103 Billion barrel basin. Linc Energy's research to date suggests that the conventional oil opportunities are also significant with several very good conventional oil well opportunities identified for exploration in the near future.

Peter Bond, Managing Director and Chief Executive Officer, said, 'We look forward to the results of these first 3 three wells as we further define the potential of this world class energy asset. Importantly for shareholders, we have not had to reduce our exposure to the upside of this asset and yet are still able to explore and potentially develop this simply massive oil opportunity. The targeted 2014 exploration program will help us understand the deeper, more prospective parts of the basin and hopefully help us unlock the value of this incredible oil asset. With Brent crude oil at over $110 per barrel and further uncertainty in the global oil markets and with the reports and modelling completed by Baker Hughes showing a great oil and gas opportunity awaits us, now is obviously the ideal time to act and commence this drilling program. It's worth noting that although we received offers from our partnering process last year, it didn't make sense to farm down this very significant oil acreage before we had commenced to unlock and establish the value of this asset more fully by drilling the obvious deeper shale zones and commencing drilling the numerous conventional oil targets. Linc Energy has a lot of experience in drilling and completing successful drilling programs from the Texas Gulf Coast to Alaska, where the Linc Energy team has performed some extraordinary campaigns under very difficult conditions. Given our experience as a company, the early drilling and development of this 16 Million acre, 103 Billion BOE asset is best, I believe, exploited in the first instance by Linc Energy. I am confident that our drilling program in the Arckaringa Basin will be a company making project. We are committed to flowing hydrocarbons (oil and gas) from this asset as soon as possible and look forward to updating the market on our 2014 drilling results and progress in the near future.'
Linc Energy holds over 65,000 km2 (16 million contiguous acres) within the Arckaringa Basin across seven Petroleum Exploration Licences (PELs) and one Application (PELA).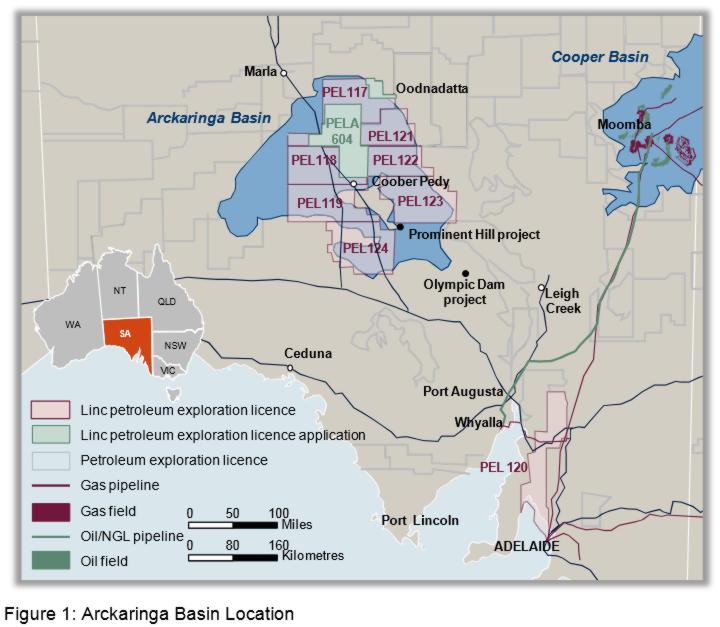 Linc Energy believes that data from wells drilled to date confirms that formations within the Arckaringa Basin have excellent resource play potential with total organic carbon (TOC) levels, permeability, porosity and thickness comparing favourably to prolific US unconventional liquids plays (Bakken, Eagle Ford, Mississippi Lime).
Source: Linc Energy
back to top