News listings
energy-pedia exploration

Australia
Australia: Linc Energy spuds second well in 103 billion barrel Arckaringa Basin
18 Dec 2014

• Pata 1 well intersected a continuous section of oil-bearing Stuart Range source rock between 1,119m to 1,173m
• Eba 1 Well (The second Arckaringa drill well in the current program) was spudded
• Fluorescence also observed in carbonaceous siltstone band within the Boorthanna Formation at 1184.3m
• Precollar rig released from the Fox 1 well • Main hole rig released from the Pata 1 well and mobilised to the Eba 1 well

Linc Energy has announced an update on drilling operations in the Arckaringa Basin. As at 06:00hrs on 18 December 2014, the main hole rig was drilling ahead at the Eba 1 vertical exploration well (located in PEL121) in the Mount Toondina Formation at a depth of 650m. The rig will drill to section depth of approx. 1,000m prior to running 9-5/8" intermediate casing. The Eba 1 well will target unconventional reservoirs within the pre-Permian sequence where sediments are expected to be up to 2000m thick. Previous biomarker analysis confirms a very strong oil-source correlation between the Maglia 1 oil sample (previously discovered in an earlier Linc drilling program) and shallow marine carbonates intersected at the Cootanoorina 1 well (located 13km to the north-west) in the pre-Permian Formation. The Eba 1 well is expected to take thirty (30) days from re-entry to meet well objectives.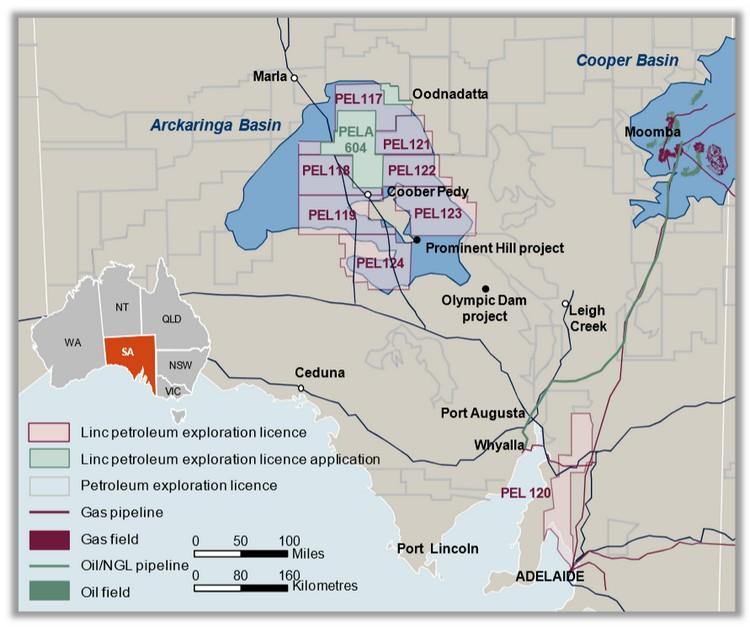 Click here for full announcement
Source: Linc Energy
back to top