Strike to farm-out a 45% non-operated interest in Walyering (EP447) to Talon Petroleum in exchange for a $6m free carry in upcoming appraisal well.
Walyering appraisal well to be added to CY21 Perth Basin drilling program.
Success at Walyering will revalue Strike's 1,853km² acreage position across the Jurassic wet-gas play.

Strike Energy has agreed terms with ASX listed Talon Petroleum for the acquisition by Talon of a 45% non-operated interest in Walyering (EP447) and formation of an unincorporated Joint Venture for the appraisal and, if warranted, development of Walyering.
The completion of the transaction is subject to the execution of definitive transaction documentation and obtaining ministerial approval to the transaction.
On completion of the farm-out, the working interests in Walyering (EP447) will be Strike 55% and Talon 45%. Strike will remain operator of the permit and of the Joint Venture.
Farming out Walyering is in line with Strike's strategy of accelerating production of large volumes of domestic gas from its Perth Basin portfolio in order to capture additional market share during a period of expected supply shortage during the mid-part of the decade.
Walyering benefits from being a discovered resource that has both excellent seismic and well control, and which is in close proximity to major infrastructure and existing industrial gas users. Walyering makes an excellent test-case for the geotechnical work Strike has carried out across the Jurassic Wet Gas Play in the Cattamarra sequence(refer to accompanying presentation entitled 'Walyering Gas Field Appraisal Program').
Should the appraisal drilling prove up a commercial development, then Strike expects this will be a catalyst for a material uplift in valuation of its 1,853 km² acreage position across the play.
Forming a Joint Venture at Walyering will allow Strike to accelerate a potential developmentopportunity whilst offsetting associated expenditure, thereby enabling Strike to continue to focus its balance sheet on the capital required for the planned West Erregulla development.Additionally, with a rig in the Perth Basin to drill the West Erregulla wells, Strike has the opportunity to benefit from potential cost savings by adding a Walyering appraisal well into its drilling program.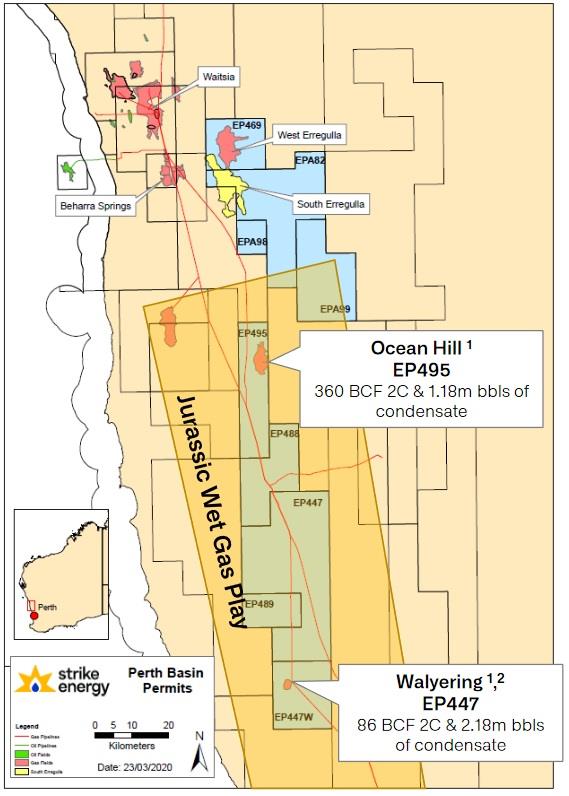 Strike Energy Managing Director & CEO Stuart Nicholls, said:
'The acceleration of the Walyering appraisal will add to what is a very exciting coming 12-monthsfor the company. This includes the West Erregulla wells, the targeted Phase 1 FID and now the potential to have a second gas resource progressing into development.
'Whilst the Greater Erregulla development remains the company's primary focus, Strike is making the most of this current low-cost environment. Walyering is a perfect example of the value that can be generated through offsetting costs from an operationally concentrated portfolio with geological diversification.
'Under the new leadership of Mr. David Casey, Talon Petroleum will make an excellent partner as Mr. Casey and Strike have a history of productive and successful operations together from when he served as Australian CEO for Warrego Energy. Strike looks forward to working with Talon throughout the Walyering appraisal campaign.'
Key Terms of the proposed transaction are as follows:
Carry: Talon will free carry Strike for the first $6m of a proposed $9m of costs incurred by the Joint Venture in relation to the drilling and completing of one well and associated geological and geophysical studies within the permit (including related administrativecosts) to earn in a 45% non-operated working interest in EP447.
Joint Venture: Strike and Talon will form an unincorporated Joint Venture (55% Strike: 45% Talon) with Strike as operator.
Additional Right: Talon will be offered a first right of refusal, valid for a 5-year periodfollowing execution of the Transaction Documents, on the farm-in rights for Ocean Hill EP495 should Strike commence marketing of a potential farm-out of that permit.•Conditions Precedent: The transaction is subject to execution of definitive transaction documents and ministerial approval to the transaction.
Security: Talon will pay Strike $1 million as security for Talon's free carry obligations.
Walyering – EP447
The Walyering conventional gas discovery was made in the Cattamarra Coal Measures (at an approximate depth of 3,400m SS), a play that has been proven to support commercial production from the gas projects at Gin-Gin and Red Gully.
The permit covers 1,110 km2 and was acquired in 2018. Since acquisition Strike has generated90km2 of 3D seismic over Walyering in late 2019 which has markedly improved Strike's confidence in both Walyering and the Jurassic wet gas play. This high-resolution data indicates the presence of wet-gas accumulation up dip of the Walyering-4 well location.
Walyering is strategically advantaged in its location being situated between WA's two major gas transmission lines and with gas that flowed from Walyering-1 only measuring 1% CO2 and flowing at 13.5mmscf/d. Furthermore, major industrial gas users are located in the immediate area, who have known uses for both the gas and condensate streams locally. Both of the above translates into a potentially very low cost and fast paced development which would avoid the need for significant infrastructure.
Original article link (includes Presentation)
SourceL Strike Energy