News listings
energy-pedia general news

Canada
Canada: Pengrowth reaches agreement to sell North Central Alberta properties for $180 million
20 Mar 2017

Pengrowth Energy Corp has entered into an agreement for the sale of a portion of its Swan Hills assets in North Central Alberta for total cash consideration of $180 million, subject to customary adjustments.
The sale of the Swan Hills assets is in keeping with the Company's strategy to de-lever its balance sheet while allowing it to streamline and high-grade its remaining portfolio, and to concentrate on its core assets that are expected to position the Company for substantial per share increases in reserves, production and cash flow.
The divested assets generated average daily production of approx. 4,920 barrels of oil equivalent per day (boe per day) (weighted approx. 82 percent towards liquids) during the fourth quarter of 2016 and had Proved plus Probable (2P) reserves of 31 million boe as at December 31, 2016, according to the independent reserve evaluators GLJ Petroleum Consultants.
This transaction will allow Pengrowth to further reduce its level of debt. The Company expects to use a portion of the sale proceeds to pre-pay the remaining outstanding US $100 million (equivalent Cdn $134 million) of the 6.35% senior term notes which are scheduled to mature on July 26, 2017. Following this prepayment, Pengrowth will have no outstanding debt maturities in 2017 and the Company's proforma net debt as of May 31, 2017 will fall to approx. Cdn $970 million.
The effective date of the sale is January 1, 2017 and closing is expected to occur on May 31, 2017, subject to the receipt of all necessary regulatory approvals and the satisfaction of other customary closing conditions.
In light of the announced transaction, Pengrowth is taking this opportunity to update its 2017 corporate guidance to reflect the changes that result from the sale and its increased concentration on its core assets. Full year 2017 average production guidance is expected to be impacted by approximately 3,100 boe per day, resulting in revised 2017 production to be between 47,000 and 49,000 boe per day. The remaining changes to 2017 guidance resulting from the sale are outlined in the table below: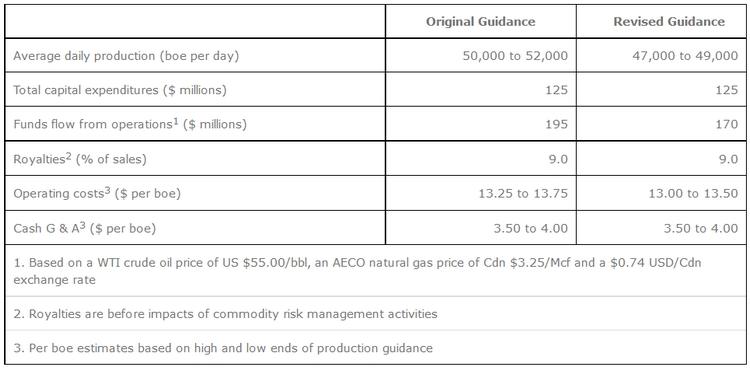 Source: Pengrowth Energy
back to top