News listings
energy-pedia licensing

Cote d'Ivoire
Cote d'Ivoire: African Petroleum awarded exploration permit in Côte d'Ivoire over offshore Block CI-513
10 Jan 2012

African Petroleum has announced that its its wholly owned subsidiary, African Petroleum Côte d'Ivoire, has entered into an agreement with the Société Nationale d'Opérations Pétrolières de la Côte d'Ivoire (PETROCI) and the Republic of Côte d'Ivoire to acquire one offshore exploration permit covering Block CI-513 as shown in the attached map.

Key points:
African Petroleum Côte d'Ivoire entered into agreement with PETROCI and the State of Côte d'Ivoire to acquire exploration rights in one offshore block: CI-513. The block is situated in
the Western Offshore area of Côte d'Ivoire, with a total surface area of 1440 sq km.
African Petroleum Côte d'Ivoire will be the Operator with 90% interest in the block. The other 10% is owned by PETROCI.
African Petroleum Côte d'Ivoire exploration programme will target deep water Upper Cretaceous submarine fans in Cote d'Ivoire which are considered to have similar high impact potential as discoveries in the Jubilee field, Ghana and Mercury discovery, Sierra Leone.
Karl Thompson, Chief Executive Officer, comments 'African Petroleum is already one of the largest net exploration acreage holders in the West African transform margin focussed on the newly emerging and highly successful Upper Cretaceous exploration fairway. The award of CI-513 initiates African Petroleum's commitment to building a high grade exploration portfolio in the proven oil
basin of Côte d'Ivoire and accelerating exploration in the region. The new entry into Côte d'Ivoire is part of African Petroleum's strategy to build an extensive portfolio in proven Upper Cretaceous
basins of Côte d'Ivoire, Sierra Leone and Liberia as well as building on our pre-eminent position in the frontier Gambia/Senegal Western Margin. We anticipate announcing significant additional new
exploration awards in 2012'.

African Petroleum has recently been awarded licences in Senegal over two blocks: Rufisque Offshore Profond and Senegal Offshore Sud Profond. The area covers 18,277sq km. The Company holds 90% interest with its partner Petrosen holding the remaining 10%. African Petroleum currently holds a 100% interest in Blocks LB-08 and LB-09 offshore Liberia, where it has completed 5,100 sq km of 3D seismic data. It has drilled one well in LB-09 with encouraging results.

African Petroleum holds a 100% interest in Block SL-03 offshore Sierra Leone where it has recently completed 3D seismic acquisition covering 2,500 sq km. The Company also holds a 60% operating interest in Blocks A1 and A4 offshore Gambia where it has completed 2,500 sq km of 3D seismic. This is in conjunction with its partner Buried Hill Gambia.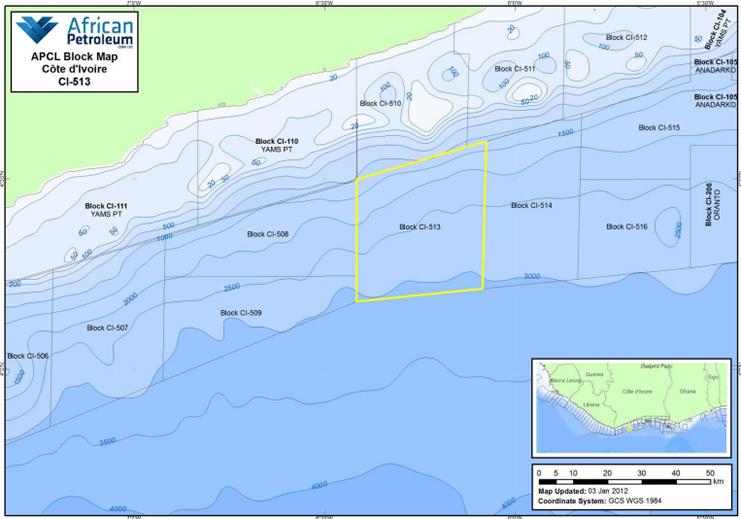 Source: African Petroleum
back to top