News listings
energy-pedia general news
Simba Energy updates operations in Liberia, Mali and Ghana
18 Mar 2011

Simba Energy, the oil and gas exploration company with a focus on the West African nations of Liberia, Mali, and Ghana, has provided the following updates to its shareholders:

Liberia
Pursuant to our previous announcement in October 2010, Simba Energy submitted its application to the National Oil Company of Liberia (NOCAL) to convert its current Hydrocarbon Reconnaissance Permit (NR-001) into a Production Sharing Agreement (PSA). Since then the Company has had extensive meetings with NOCAL to review, advance and finalize this PSA application. During this period there have been changes to both the management and the board of directors of NOCAL, as well as a moratorium imposed by the Government on new (offshore) PSA applications. The Company is pleased to confirm it has successfully completed all required negotiations and discussions with NOCAL and is now awaiting a final meeting with the Technical Committee to formalize an executed agreement.
Robert Dinning, President & CEO, commented 'I wish to recognize all parties involved with the continued effort and the general support required to advance Simba's PSA application through the many levels of assessment and review required by the various agencies within the National Oil Company of Liberia and the Government. Our team on the ground in our Liberian offices were also very active with implementation of various social programs in the communities in and around the designated areas where the Company intends to expand its exploration activities.'
Upon formal receipt of this PSA in Liberia the Company will soon after begin preparations to carry out extensive 2D seismic and passive seismic surveys over the 125 sq km area which it has already identified as one continuous seep (see also news release from April 13, 2010) With these efforts the company expects to obtain the stratigraphic data necessary to determine if the characteristics required for collection or trap structures are present before any subsequent exploration drilling can be contemplated.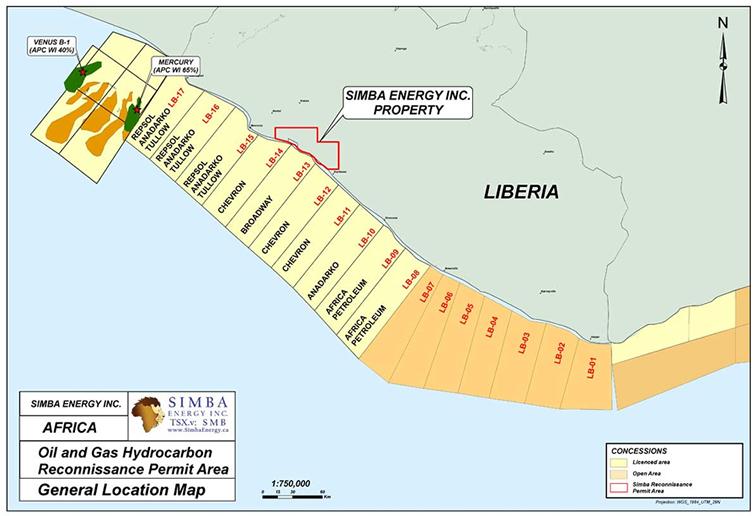 Mali
As announced in December 2010, Simba Energy formally submitted an application for a (hydrocarbon) Production Sharing Agreement (PSA) on Block 3 in Mali, West Africa. This is a very large block located in the northern part of Mali consisting of 22,000 sq km and is in an area where extensive exploration is underway. As part of the PSA application review process a Company delegation including Senior Management recently met in Mali to review the application with officials from all related agencies. The Company is pleased to confirm that any and all aspects of the application have been completely addressed and resolved to the satisfaction of these respective agencies and the management of AUREP (French Version/Authority for the Promotion of Oil Research to Mali) and the Company is now awaiting final approval of its application.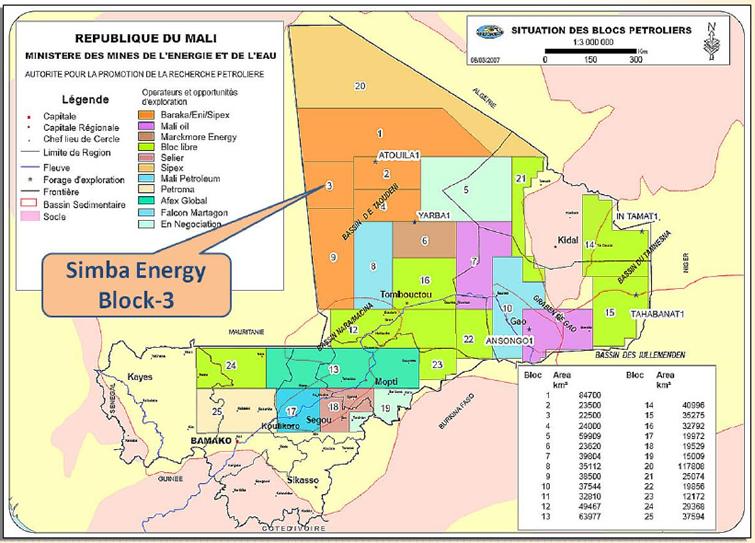 Ghana
Simba Energy in late 2010 submitted its application for a Production Sharing Agreement (PSA) in Ghana. This application covers a significant area and is currently being processed through their technical committees. We are awaiting their report regarding any further information that may be required and hope that this application should reach the final decision stage within the next 60 days.
President and CEO Robert Dinning remarks, 'We are very pleased with the progress our management team has made during the past 12 months as the Company transformed itself from a mining orientated exploration company to one focused on oil and gas exploration in West Africa. It has been challenging and the management team has done an outstanding job fulfilling any and all requirements put to it by the various governments and agencies while assessing and applying for the petroleum assets we chose to pursue. We have also been able to build a number of high quality relationships within a number of jurisdictions that will surely be helpful going forward. In this same timeframe the general global economic outlook for oil as a commodity has improved significantly and the Company is now in the best position it has been in since its re-organization just over one year ago to take advantage of geographic inroads it has made in the past year'.
About Simba Energy
Simba Energy is a Vancouver, B.C. based oil and gas exploration company focusing on strategic hydrocarbon opportunities in Africa (Liberia, Ghana and Mali). This region has shown increased promise for development of new hydrocarbon deposits. The Company holds the first and only onshore Hydrocarbon Reconnaissance Permit issued in the country of Liberia for 1,366 sq kms covering the entire onshore extent of the sedimentary basin known as the Robert-Bassa Basin. In having advanced the license to now warrant acquisition of seismic data Simba has exercised its right to convert this license to a Production Sharing Agreement (PSA) with final approval expected. Simba is the first junior resource company to pursue onshore oil and gas opportunities in Liberia since the late 1970's.
Source: Simba Energy
back to top