News listings
energy-pedia licensing

Gulf of Mexico
GoM: Petrobras acquires Devon Energy's stake in the Cascade field
28 Jan 2010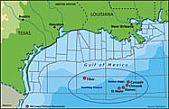 Petrobras has exercised the right of preference for the acquisition of 50% of the stakes held by Devon Energy in the Cascade field, located in the Gulf of Mexico. The right of preference appears in the partnership agreement currently in effect between Petrobras and Devon. The contracts are expected to be executed in up to sixty days and, as a result, Petrobras will go on to hold 100% of the stakes in the Cascade field.
The Cascade field is developed together with the Chinook field, both operated by Petrobras. In the Chinook field, the company holds 66.7% stakes and operates in partnership with Total, which holds the remaining 33.3% of the stakes.
For the joint development of the Cascade and Chinook fields, Petrobras secured the first licence to use a Floating Production, Storage and Offloading (FPSO) type platform to operate in the Gulf of Mexico. The FPSO BW Pioneer is expected to kick-off its operations there in mid-2010.
Maersk Oil has previously agreed to acquire Devon's 50% stake in the deepwater Cascade field, along with 25% stakes in deepwater fields St. Malo and Jack, in a $1.3 billion deal. However, Petrobras exercised its preferential purchase right. See Maersk's proposed $1.3 billion acquisition of Devon Energy's deepwater oil fields is pre-empted
Source: Petrobras
back to top