News listings
energy-pedia general news

Indonesia
Indonesia: Lion Energy and Gulf Petroleum agree termination of Seram (Non Bula) PSC SPA
12 Sep 2019

Lion Energy previously announced on December 12, 2018 that it entered into a conditional sale and purchase agreement ('SPA') with Gulf Petroleum Investment Company ('GPI') to acquire GPI's 16.5% stake in the Seram (Non Bula) Production Sharing Contract ('SNBPSC'), increasing Lion's stake in SNB to 19%.
By way of background, the SNB PSC is in the process of being converted from a legacy cost recovery styled PSC to the more innovative new gross split PSC format. The New PSC is effective November 1, 2019.
The Proposed Transaction was subject to various conditions, including approval from the Government of Indonesia (GOI). The Proposed Transaction involved the purchase by Lion of GPI's rights and obligations in both the Current PSC and the New PSC.
The GOI has indicated that whilst it can approve the transfer of GPI's interest to Lion in the Current PSC contract, it believes that existing participants in the New PSC are restricted from selling more that 50% of their participating interest in the first five years, during the New PSC firm work commitment period.
The parties have therefore mutually agreed to terminate the SPA. For clarification purposes, the interests in SNB will remainas follows: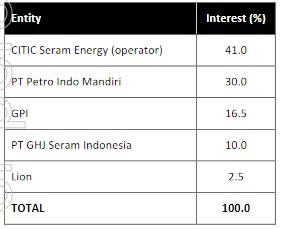 Lion remains interested in increasing its interest in SNB to compliment its 100% interest in the recently awarded adjacent East Seram PSC. Lion has the dominant land position on the new un-creamed & immature Manusela play.
Source: Lion Energy
back to top