News listings
energy-pedia general news

Indonesia
Indonesia: Salamander Energy increases equity interest in Bangkanai PSC, Central Kalimantan
23 Nov 2011

Salamander Energy has agreed to acquire the full authorised share capital of Elnusa Chariot International, which holds an 11% interest in the Bangkanai PSC. Salamander is the operator of the Bangkanai PSC and on completion of the transaction will hold an 80% interest in the licence. Salamander is acquiring Chariot from PT. ElnusaPatra Ritel for a cash consideration of US$6 million.
The Bangkanai PSC is located in Central Kalimantan, Indonesia, one of the Group's core focus areas. It contains the Kerendan gas field development where a Gas Sales Agreement was signed in 1H 2011 for the supply of 20 Bnbtu per day for a period of 20 years. The commercialisation of this gas resulted in approx. 16.5 MMboe of proved and probable (2P) reserves being bookable net to Salamander. In addition, the field contains a further 31.9 MMboe of gross contingent resource and is expected to be ready to deliver gas in mid-2013. As a result of this transaction, Salamander will be in a position to book an additional 2.6 MMboe of net 2P reserves and 3.5 MMboe of net contingent resources.
In addition to the Kerendan field development, the Bangkanai PSC has extensive exploration potential. The DrillCo-1 land rig is due to mobilise to the Kerendan field site next month ahead of both development drilling and exploration drilling on the West Kerendan and Sungai Lahei prospects. Exploratory drilling on West Kerendan and Sungai Lahei will target approx. 900 Bcf of gross mean prospective resource.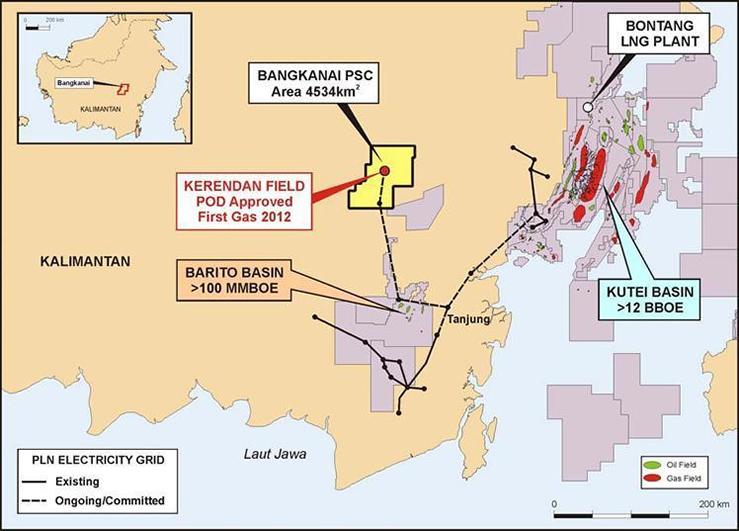 Source: Salamander Energy
back to top