News listings
energy-pedia general news

Iraq
Iraq: Statoil seeks Iraq's OK to sell West Qurna-2 oil field stake
02 Feb 2012
Norway's Statoil wants to sell its stake in a giant 12.9 billion barrel oilfield in southern Iraq to Russia's LUKOIL, and the Iraqi oil ministry has no objection 'in principle', an Iraqi oil official said on Thursday. Statoil holds 18.75 percent of the West Qurna Phase-2 field, with LUKOIL at 56.25 percent and Iraq's North Oil Company 25 percent.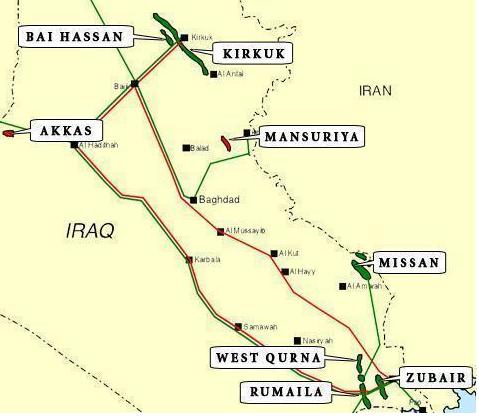 The Norwegian state company has considered quitting Iraq for some time and turning its attention to less-risky assets elsewhere, industry sources said. It is planning billions of dollars worth of investments in areas such as offshore Norway and in the United States.
'Statoil asked the oil ministry to approve selling its stake in West Qurna to LUKOIL, and in principle the Iraqi oil ministry has no objection to this sale,' said Sabah Abdul-Kadhim, head of the legal section of Iraq's Petroleum Contracts and Licensing Directorate.
A senior Iraqi oil industry source confirmed that Statoil had requested approval for the sale and said the deal was in its 'final stages'. Officials at both Statoil and LUKOIL declined to comment.
LUKOIL and Statoil in December 2009 sealed a 20-year deal to develop the virgin field and targeted a plateau output of 1.8 million barrels per day (bpd) in six years.
'Under the service contract of West Qurna, Statoil has the right to sell its stake to another company after receiving the approval of the oil ministry,' Abdul-Kadhim said. 'It's normal, and we will not lose anything because LUKOIL will keep developing the oilfield.'
Last week Iraq's cabinet approved a $998 million oilfield service contract for West Qurna Phase-2. An Iraqi oil official, who asked not to be identified, said the deal was with South Korea's Samsung Engineering.
The two companies were among the winners of auctions Iraq held more than two years ago to develop its massive southern fields after years of war and under-investment. Baghdad hopes the deals, which target capacity of 12 million bpd by 2017, will propel Iraq into the top echelon of world producers. But infrastructure bottlenecks and bureaucratic hurdles make achieving a target of 6 million bpd look ambitious.
International oil companies have grown increasingly frustrated over time, but Iraqi sources are confident that Statoil's withdrawal will not signal the start of a trend. Iraq produces around 3 million bpd now and expects to add about 500,000 bpd this year. Exports are just over 2 million bpd.
Source: Reuters
back to top