News listings
energy-pedia development and production

Netherlands
Netherlands: Northern Petroleum Geesbrug well fracturing programme is exceeding expectations
28 Sep 2009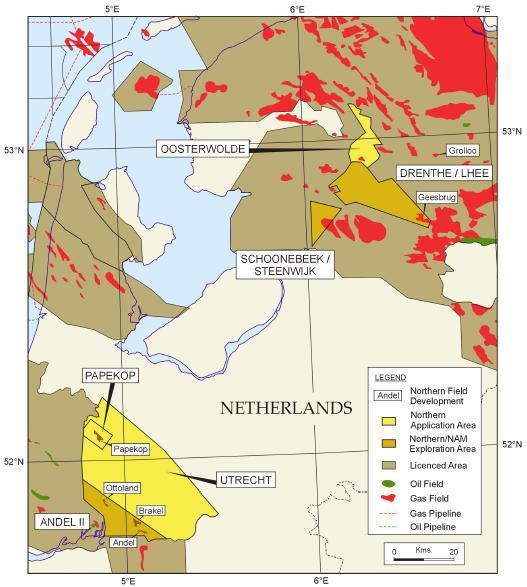 Northern Petroleum Plc has confirmed that the hydraulic fracturing in the Geesbrug-1 well of the Carboniferous Hardenberg and Permian Rotliegend formations in the Dutch Drenthe III licence area has been successfully completed.
Post fracturing the well has flowed on test beyond the upper range of Northern's expectations with stable gas flow rates of 450,000 m3/d (16.7 MMscf/d) and flowing wellhead absolute pressures of 170 bar (2465 psia) on a 36/64" choke. Measurements made during tests combining flow from both the Rotliegend and Hardenberg formations, indicated that the Rotliegend formation alone is capable of flowing at over 260,000 m³/d (9.6 mmscf/d).
This highly successful five well programme of hydraulic fracturing of reservoirs carried out at Brakel, Wijk en Aalburg, Ottoland, Grolloo and Geesbrug over the last ten months is now concluded.
Construction activities for short pipelines have commenced for the tie in for production of the Geesbrug and Grolloo fields.
These results also have much relevance to the Tiendeveen prospect currently drilling 3.8 kms northwest of Geesbrug targeting the same formation.
"The results of hydraulic fracturing have already exceeded even our upside expectations. Even with the upcoming tests results of Rotliegend still to be analysed, shareholders and the Northern team should relish bringing the Grolloo and Geesbrug fields on production providing a strong revenue stream." said Derek Musgrove, Managing Director of
Northern.
NPN maintains a 45% licence and working interest, with EBN and Dyas respectively holding 40% and 15%.
Source: Northern Petroleum

back to top