News listings
energy-pedia development and production

Norway
Norway: Statoil to invest over NOK 5 billion in the further development of the Snøhvit field in the Barents Sea
13 Mar 2018
Statoil and its partners have decided to invest just over NOK 5 billion in the further development of the Snøhvit field in the Barents Sea, which will provide feedstock for the LNG plant at Melkøya in Hammerfest. The development of Askeladd is part two of the multi-phased Snøhvit development.
The Askeladd development will supply 21 billion cubic metres of gas and two million cubic metres of condensate to Hammerfest LNG, and production is scheduled to come on stream towards the end of 2020.
'This is the next step in the development of Snøhvit. Askeladd will help maintain a plateau production rate at the Hammerfest LNG plant until 2023 and is a profitable investment that will help secure jobs and ripple effects in the region,' says Torger Rød, Statoil's senior vice president for project development.
But the perspective for Snøhvit and Hammerfest LNG is much longer:
'The Snøhvit licence contains enough gas to maintain production beyond 2050, and Hammerfest LNG will provide jobs for many years to come,' says Per Henry Gonsholt, acting production director at Hammerfest LNG. More than 400 people are currently working at the plant.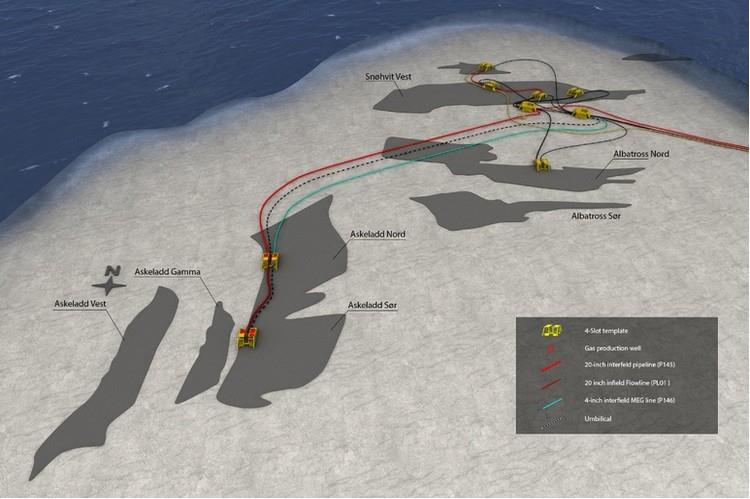 Askeladd will be developed with three wells via two new subsea templates with space for additional wells in the future. In addition, an infrastructure will be installed to tie-in the Askeladd development to existing Snøhvit field infrastructure.
The multi-phased development of Snøhvit was covered in the plan for development and operation (PDO) of Snøhvit, which was approved by the authorities in 2002. The partnership has already begun working on the next steps in the development of Snøhvit.
'Operation of Hammerfest LNG at Melkøya requires new, profitable gas volumes to be phased-in at the right time in the period leading up to 2050. This is also a good example of the long-term approach of our industry, and the plant will create attractive jobs for young people in the oil and gas industry for many years to come,' says Siri Espedal Kindem, senior vice president for operation north.
The development of the Snøhvit field and the associated LNG plant at Melkøya has created major ripple effects for Hammerfest. Among other things, the local authorities have received almost NOK 2 billion in property tax in the ten years Hammerfest LNG has been in production.
Hammerfest LNG is a highly efficient LNG plant due to the re-injection of the reclaimed CO2 and the combined heat and power cycle used to supply the energy needs at Melkøya.
The Askeladd development will contribute to increased activity at the Polar Base in the project period, and Aker Solutions has been awarded the contract for the two subsea templates. Additional contracts will be awarded in the following months.
Source: Statoil
back to top