News listings
energy-pedia general news

Peru
Peru: Karoon farms out Block Z-38 in Peru's Tumbes Basin to Tullow
10 Jan 2018

Karoon Gas Australia has announced the farm-out of a 35% interest in offshore exploration Block Z-38, Tumbes Basin Peru to Tullow Peru, a wholly owned subsidiary of Tullow Oil.

Pursuant to the Farm-out Agreement, Tullow will acquire a 35% interest in the block on the following terms:
Fund 43.75% of the cost of the first exploration well, capped at US$27.5 million (at 100%), beyond which Tullow will pay its 35% share.
Pay US$2 million upon completion with a further US$7 million payable upon declaration of commercial discovery and submission of a development plan to Perupetro.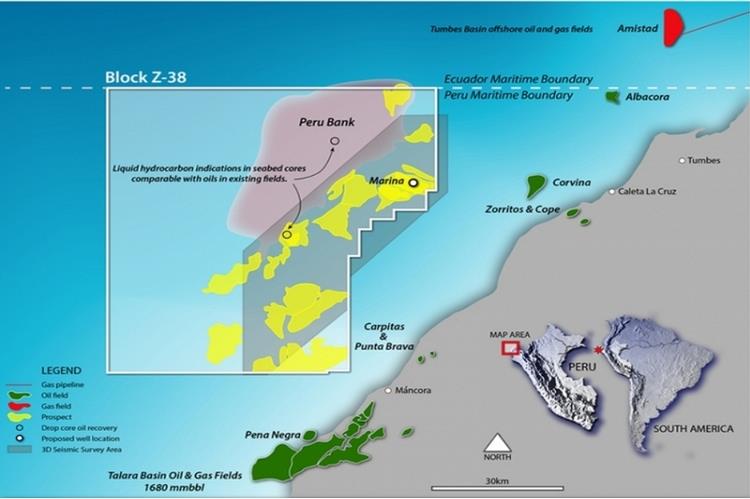 The Agreement remains subject to the satisfaction of certain licensing conditions and regulatory approvals. Following completion of the farm-out well, Tullow will have an option to assume operatorship of the block.

Managing Director Mr Robert Hosking said:
'Karoon is excited to welcome a partner with such a long and successful exploration track record into Peru. Tullow is a company, like Karoon, that recognises the importance of high-impact offshore exploration as a core driver of a company's future value.

Karoon is pleased that Tullow has recognised the exploration opportunity in Z-38 and looks forward to testing the block's potential through drilling the Marina prospect.

Block Z-38 sits in the heart of the Tumbes Basin, adjacent to the prolific oil producing Talara Basin which has produced 1.7 billion BOE since 1880. The Tumbes Basin has a proven working petroleum system and evidence suggests the prospects in Z-38 are accessing the same source rocks as the giant onshore Talara Basin fields.

Historically offshore Peru has experienced only limited exploration activity, however 2017 has seen a resurgence of interest and inflow of industry capital looking to test Peru's exciting offshore potential. Anadarko was awarded 3 new offshore licence contracts during 2017 along with offshore and onshore Technical Evaluation Agreements awarded to Repsol a nd Global Petroleum'.

Joint Venture Partner Equity Interests: KEI (Peru Z38) Pty Ltd, Sucursal del Peru 40%; Tullow Oil 35%*; Pitkin Petroleum Peru Z-38 SRL 25%.

* Tullow's 35% equity interest remains subject to conditions including regulatory approvals
Source: Karoon Gas Australia
back to top