Touchstone Exploration has announced highlights of its independent reserves evaluation of the Cascadura Assessment Area prepared by GLJ Ltd with an effective date of June 30, 2020. Highlights of the total proved ('1P'), total proved plus probable ('2P') and total proved plus probable plus possible ('3P') reserves from the Cascadura Reserves Report are provided below. Unless otherwise stated, all financial amounts herein are rounded to thousands of United States dollars.
The Cascadura Assessment Area is located in the Company's Ortoire exploration block, onshore in the Republic of Trinidad and Tobago (Touchstone 80% working interest operator, Heritage Petroleum Company Limited 20% working interest). The Cascadura Assessment Area represents the geologically and geophysically defined reservoirs which were evaluated by the Company's Cascadura-1ST1 exploration well drilled in the fourth quarter of 2019 and tested in the first half of 2020.
The Cascadura Reserves Report evaluates the Cascadura Assessment Area on a stand-alone basis and provides a reserves estimate of natural gas and natural gas liquids, as well as a before income tax estimate of net present values of future net revenues as of June 30. 2020. The Cascadura Reserves Report should be considered as supplementary to, and reconciled with, the volumes and future net revenues disclosed in the Company's 2019 Annual Information Form dated March 25, 2020 which has been filed on SEDAR and can be accessed at www.sedar.com.
Paul R. Baay, President and Chief Executive Officer, commented:
'We are delighted to report that the independent reserves report verifies the material size of the reserves yet to be produced in the Cascadura structure and provides the groundwork for a multi-year future onshore development program in Trinidad. Through the excellent work of the Touchstone team in the drilling of our first two exploration wells, we have successfully proven up the hydrocarbon bearing turbidite model in Ortoire. This model will be further evaluated by our next two exploration targets at Chinook and Cascadura deep, with drilling at Chinook on track to commence within the next few weeks.
We could not have envisioned a better start from the first two wells of the Ortoire exploration program, and we look forward to updating the market and our Trinidad stakeholders as we progress with our Ortoire exploration and development activities in the coming months.'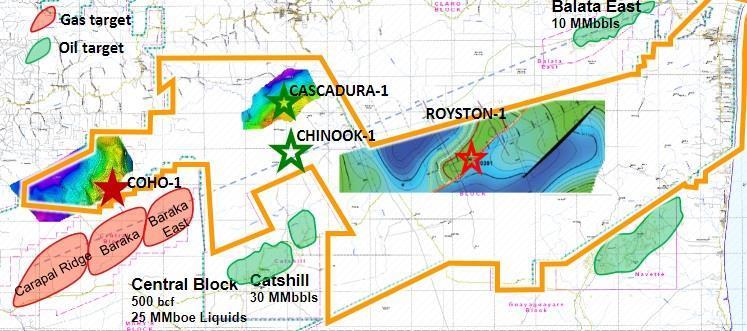 Cascadura Reserves Report Highlights
Gross Discovered Petroleum Initially-in-Place ("DPIIP") is estimated to be between 571.5 Bcf of natural gas in the High Estimate and 241.2 Bcf in the Low Estimate, with a Best Estimate of 398.5 Bcf.
Company working interest 3P reserves of 73,190 Mboe (85% recovery of High Estimate DPIIP), 2P reserves of 45,030 Mboe (75% recovery of Best Estimate DPIIP), and 1P reserves of 23,622 Mboe (65% recovery of the Low Estimate DPIIP).
Net peak production is estimated to be 22,600 boe/d in the 3P forecast, 15,108 boe/d in the 2P forecast, and 10,266 boe/d in the 1P forecast.
Estimated before tax 3P 10% discounted net present value of future net revenues ("NPV10") of $802.9 million, 2P NPV10 of $519.2 million, and 1P NPV10 of $287.7 million.
Net future development costs associated with the development of the Cascadura Assessment Area is estimated at $11.6 million for 1P reserves and $15.8 million for both 2P and 3P reserves.
James Shipka, Chief Operating Officer, commented:
'GLJ's independent evaluation of the Cascadura-1ST1 production test results and the subsequent reserves evaluation of the Cascadura Assessment Area confirms the tremendous potential of the Ortoire exploration block. The Cascadura Reserves Report combines both the pressure and flow testing of the Cascadura-1ST1 well with the 3D seismic data which covers the entirety of the Cascadura structure as we now understand it. The team is currently working hard to design the facilities and infrastructure required to bring the Cascadura gas and liquids to market as quickly as possible, and with GLJ estimating there is in excess of 500 Bcf of discovered natural gas in place in the Cascadura area, it is evident that we have a clear pathway to a multi-year development program.'
Click here for full announcement
Source: Touchstone