News listings
energy-pedia general news

Tunisia
Tunisia: Pioneer Natural Resources closes sale of Tunisia subsidiaries to OMV for $866 million
20 Feb 2011
Pioneer Natural Resources has closed its previously announced sale of all of the stock of Pioneer's Tunisia subsidiaries to a wholly-owned subsidiary of OMV for cash proceeds of $866 million, before normal closing adjustments. The transaction has an effective date of January 1, 2011.
Background
The transaction significantly strengthens OMV's position in Tunisia, an important country in the E&P core region North Africa. OMV has acquired immediate production of approx. 5,700 boe/d (average net production in Q4/10), 90% is attributable to oil and 10% to gas. Based on a report by DeGolyer MacNaughton of June 2010, Pioneer Tunisia's acreage holds 2P reserves of 38 mn boe and 3P reserves of 59 mn boe. The acreage offers considerable exploration upside and will complement OMV's existing south Tunisian assets, Jenein Sud and Nawara, very well. From a strategic point of view, OMV will be able to unlock substantial synergy potential in field operational activities. Furthermore, Pioneer Tunisia and OMV are both partners in the South Tunisia Gas Project (STGP) which aims to build a 320 km gas pipeline from the Adam production concession to the city of Gabes by 2014 to supply the Tunisian domestic market with gas. With the now reached consolidated partnership structure, the decision making process for the STGP will be facilitated.
The transaction consideration will be initially funded with existing cash and committed credit lines. OMV remains committed to strict capital discipline and retains the clear objective of maintaining a strong investment grade credit rating.
Pioneer Tunisia's interest in the Anaguid exploration permit and in the Mona/Durra production concession is subject to a pre-emption right of Pioneer Tunisia's partner under the respective Joint Operating Agreement. Anaguid and Durra/Mona account for 13% of the purchase price. In case the pre-emption right is exercised and Pioneer Tunisia's partner acquires the shares in Pioneer Natural Resources Anaguid, the purchase price will be adjusted accordingly.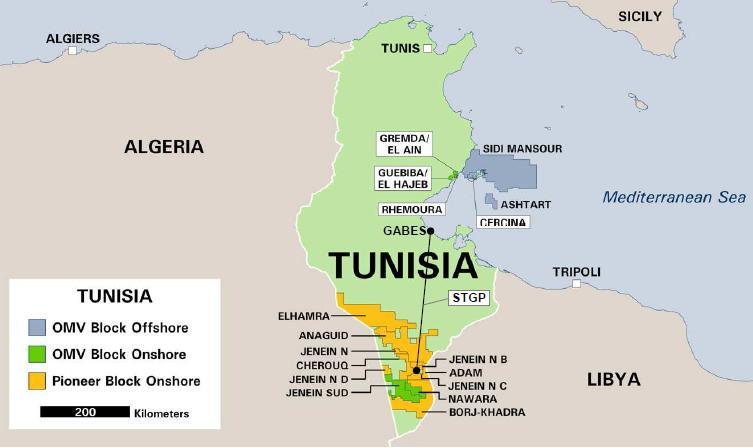 Pioneer Tunisia
Pioneer Tunisia holds interests in three production concessions and four exploration permits in southern Tunisia:
Production concessions: Jenein Nord-Cherouq, 50 % (operator); Mona/Durra, 30% (operator); Adam, 20%
Exploration permits: Jenein Nord, 100% (operator); Anaguid, 60% (operator); El Hamra, 100% (operator); Borj-El-Khadra, 40%
Source: energy-pedia
back to top