News listings
energy-pedia development and production

United Kingdom
UK: Nexen's Buzzard oil field suffers brief outage
09 May 2012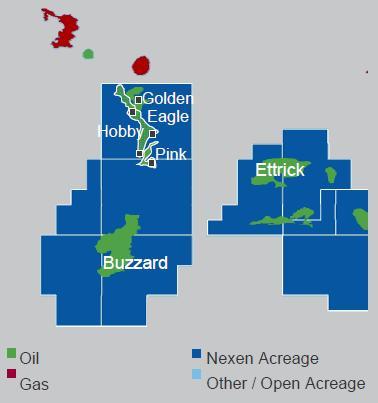 The North Sea Buzzard oil field, which has been suffering from frequent production problems since last year, was shut briefly on Wednesday due to a problem with a gas-processing unit, field operator Nexen said. It was an unscheduled outage, and restart operations were already under way, the Canadian company said. 'Expect to see production ramp up later today,' Nexen spokeswoman Patti Lewis said in an email, according to a Reuters report. Earlier in the day, traders said Buzzard had been down since around 0600 GMT. One trader said the work to restart the oil field began around mid-day.
Buzzard is the UK's largest oil field and feeds into Forties, one of the four crude oil streams comprising the dated Brent benchmark, which is used to price about two thirds of global crude oil. The benchmark has come under increasing criticism from traders because of the natural decline of output from the key North Sea oil fields and repeated production problems at the Buzzard field.
Nexen interim Chief Executive Kevin Reinhart said earlier this year the company emphasized improving reliability at Buzzard as one way of winning back investor favour following lengthy outages in 2011 that weighed on its results.
Source: Reuters
back to top