News listings
energy-pedia general news

United Kingdom
UK: Chancellor unveils Office for Unconventional Gas
05 Dec 2012
The Government has unveiled its strategy to make the 'best use of lower cost gas'. But was immediately criticised for undermining investment, jobs and efforts to cut carbon emissions.
As part of efforts to support new supplies, an Office for Unconventional Gas will be set up to ensure a 'simplified and streamlined regulatory process' for exploiting shale gas in the UK through the controversial method of 'fracking'. The Government is also consulting on tax breaks for the unconventional fossil fuel, which has been widely exploited in the US, leading to falling gas prices, but which has raised concerns over water pollution and small-scale earthquakes. There are also fears that widespread use of shale gas wells will harm the look of the UK countryside, damage tourism and reduce house prices.
The strategy unveiled alongside today's Autumn Statement predicts the construction of 26 gigawatts of new gas power plants - up to 30 power stations - by 2030, much of which will replace old coal, nuclear and gas plants. But there could be as much as 37 gigawatts of gas by 2030 if ministers decide to relax the budget for delivering emissions cuts in the 2020s, the strategy said, allowing them to be cut more slowly than recommended by climate advisers.
The backing for the fossil fuel, which critics have dubbed a new 'dash for gas', comes days after the publication of the Energy Bill which set out support for new low-carbon power including nuclear reactors and renewables. Chancellor George Osborne said the gas strategy would 'ensure we make the best use of lower cost gas power, including new sources of gas under the land'.
He said the Office for Unconventional Gas would make sure regulation was 'safe but simple' and added: 'We don't want British families and businesses to be left behind as gas prices tumble on the other side of the Atlantic.' But environmentalists attacked the move for undermining investment and jobs which could be created in clean technology, as well as pushing up energy costs for consumers as the UK would remain tied to increasingly expensive fossil fuels.
Nick Molho, head of energy policy at WWF-UK, said: 'The UK's over-reliance on gas is, environmentally and economically, highly risky. Gas price rises have driven people's bills up in recent years so committing the UK to more gas seems to show a reckless disregard for both bill payers and the environmental impact of burning yet more fossil fuels.'
Greenpeace political director Joss Garman said: 'The Chancellor is misleading people to position shale gas as the answer to UK's energy woes. The impact of fracking in the US is irrelevant because energy experts say the US shale gas boom cannot be replicated here. Over a third of the UK's economic growth in the last year came from the low carbon sector. By ignoring this and instead offering incentives to the gas industry, George Osborne is undermining crucial green growth.'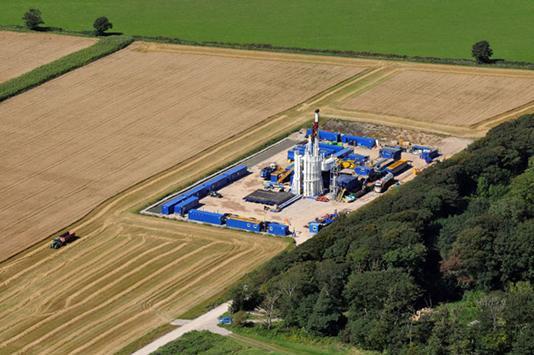 Marion Seed from Central Lancashire Friends of the Earth, the first area set to be exploited if shale gas gets the go-ahead, said: 'Local people are extremely alarmed by George Osborne's fracking plans - they could pollute our clean water and air, threaten house prices and destroy our vital farming and tourism sectors. We will fight any plans that could turn a beautiful part of the Lancashire countryside into a wasteland.'
Andrew Raingold, executive director of the Aldersgate Group alliance of leaders from business, politics and society supporting a sustainable economy, said: 'Investors who heaved a sigh of relief with the publication of the Energy Bill last week will now be thrown back into a state of confusion about the UK's energy future. Businesses have repeatedly warned the Chancellor about the economic cost of locking the UK into high imported fossil fuel dependency: rising and volatile energy prices, serious concerns about security of supply, and a missed opportunity to build up UK supply chains. Already households are paying £70 per year directly to Qatar for imported gas - money we could be keeping in the UK economy by investing in renewables on our soil.'
The consultation on tax breaks for shale gas in the UK was welcomed by Cuadrilla Resources, the company seeking to exploit shale resources near Blackpool whose work was suspended last year after fracking triggered two tremors in the area. Fracking, or hydraulic fracturing, is the process of injecting liquid deep underground to fracture shale rock and release gas contained in it.
The Department of Energy and Climate Change is due to make an announcement next week on whether Cuadrilla's operations can restart. The company wants to drill, fracture and test a small number of wells in 2013. Francis Egan, chief executive of Cuadrilla, said: 'We welcome the Government's initiative to help the emerging shale gas industry get established. Exploration is necessary to have a better understanding about how shale gas can be developed safely and sensibly from the Bowland Basin. Costs in a technology industry such as ours will be higher at the outset, but will reduce over time as the industry grows.'
And he backed the creation of a new regulatory body for the industry. 'In the UK, our activities fully comply with one of the world's tightest regulatory systems for oil and gas. We welcome any initiative that streamlines decision-making processes while ensuring that all shale gas extraction conforms to the highest environmental and health and safety standards.'
Source: Blackpool Gazette
back to top