News listings
energy-pedia development and production

Venezuela
Venezuela: OVL's Carabobo oil field begins production
15 Jan 2013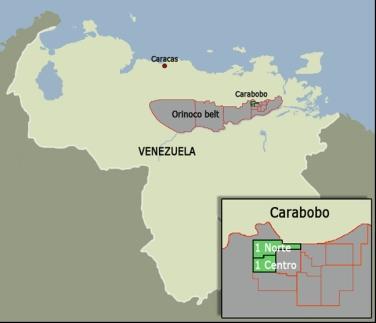 ONGC Videsh's multi-billion dollar Carabobo oilfield in Venezuela has started crude oil production as part of its efforts to address an energy shortage threatening India's economic growth. The first well in the Carabobo field of Venezuela's oil-rich Orinoco Belt a few days back began pumping extra-heavy crude, official sources said.
While initially only a small quantity is being produced, the project aims to produce 30,000 barrels per day of crude oil in the first development phase and 90,000 barrels in the second phase. Ultimately, the project will produce 400,000 bpd (20 million tonnes a year) of crude oil. The project is operated by Petrocarabobo, a joint venture company set up in Venezuela in June 2010 in which OVL, the overseas arm of state-owned Oil and Natural Gas Corp (ONGC), has 11% stake. Oil India Ltd (OIL) and Indian Oil Corp (IOC) have 3.5% stake each in the project. Spain's Repsol and Petronas of Malaysia have 11% stake each while Venezuela's state energy monopoly Petroleos de Venezuela, or PdVSA, is the majority shareholder with 60% interest.
Sources said Petrocarabobo is scheduled to produce 400,000 barrels of heavy oil a day in 6-7 years, and include the eventual construction of an upgrader facility that is needed to convert the region's tar-like crude into a usable and exportable commodity. Part of the heavy crude from this project will be destined for Respol's Spanish refineries. Indian refineries like Mangalore Refinery and Petrochemical Ltd (MRPL) too will get a part of the oil when the project reaches its peak.
As per the bid condition, the foreign firms in the joint venture had to offer to offtake the entire crude oil produced from the project. Repsol has indicated that it can take up to 165,000 bpd while Petronas has said it could take 100,000 bpd. The remaining is to be split equally between OVL and OIL. OVL's share will go to ONGC's subsidiary MRPL while Reliance Industries has agreed to take OIL's share for at least 10 years beginning 2016-17.
The Petrocarabobo joint venture consists of developing heavy crude oil reserves in the Carabobo-1 North and Carabobo-1 Central areas, located in the Orinoco Oil Belt. The consortium may have to invest a total of USD 8.8 billion in developing the oilfield and another 12.1 billion in the setting up an upgrader to convert heavy oil into valuable crude oil, sources said.
In expanding its presence in Venezuela, India, which suffers from shortage of coal, crude oil and natural gas, is following in the footsteps of rival China, which has become a major importer of Venezuelan crude as part of loans-for-oil agreements.
See related article: Repsol begins accelerated hydrocarbon production in the Orinoco Belt
Source: Business Standard
back to top