News listings
energy-pedia development and production

Vietnam
Vietnam: Su Tu Den Dong Bac oil field begins production offshore Vietnam
10 Jun 2010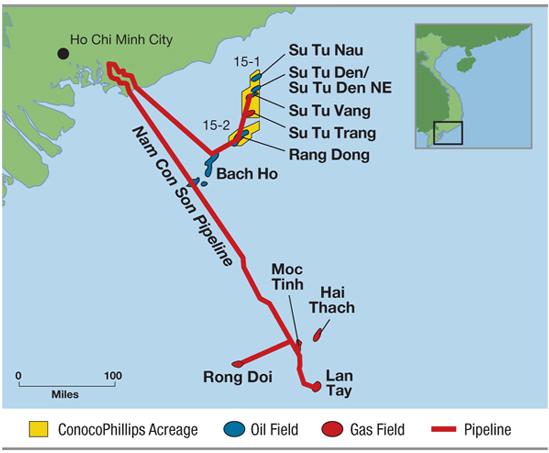 The first seven wells in the Su Tu Den Dong Bac (Northeast Black Lion) oil field off the southern province of Ba Ria-Vung Tau have been put into operation, said Cuu Long joint operating company - Cuu Long JOC. The operation has raised the company's crude oil production to 95,000 barrels a day, a 20 percent increase over the current level.
A ceremony to welcome the first oil flow from the field will be held in Hanoi on June 9.
Cuu Long JOC is a joint operating joint venture company between PetroVietnam, holding 50 percent of stake, and a number of foreign operators, namely ConocoPhillips Cuu Long Co. Ltd, the Korean National Oil Corporation (KNOC), SK Corp, and Geopetrol.
Block 15-1: Su Tu Den, Su Tu Vang, Su Tu Den Northeast, Su Tu Trang, Su Tu Nau

Operator: Cuu Long Joint Operating Co. Co-venturers: PetroVietnam (50.0%), ConocoPhillips (23.3%), KNOC (14.2%), SK Corp. (9.0%), Geopetrol (3.5%)

Block 15-1 is located in the Cuu Long Basin in the South China Sea. Production from its Su Tu Den field began in late 2003. Su Tu Den crude oil is processed and stored in the 1-million-barrel Cuu Long Thai Bien floating production, storage and offloading (FPSO) vessel. Production from the Su Tu Vang Field began in October 2008. First production from Su Tu Den Northeast is expected in 2010. Net production in 2009 was 22 MBD of crude oil and 1 MMCFD of natural gas. (Source: ConocoPhillips)
Source: energy-pedia
back to top