News listings
energy-pedia development and production

Uganda
Uganda needs $8 billion to develop oil industry
18 Feb 2010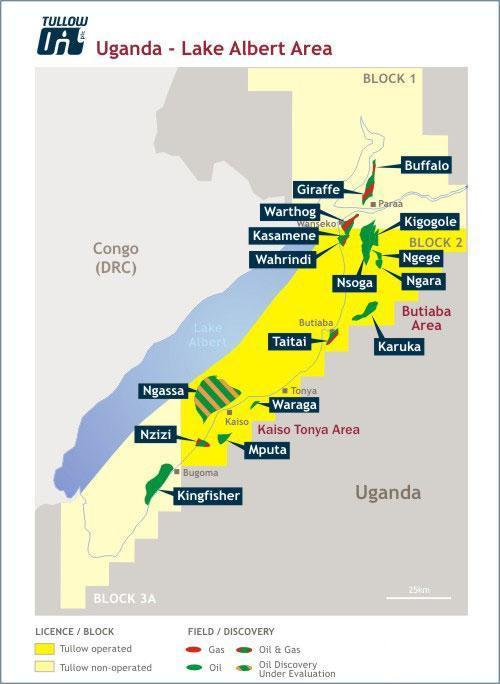 Uganda will need $8 billion in investments in the next decade to develop its newly discovered oil and gas resources and bring them to the marketplace, according to a senior government official. East Africa's third largest economy struck oil in its western region in 2006 and has seen a surge in investor interest in its nascent petroleum industry.
Uganda needs the money to finance continued drilling and field appraisal, construction of a refinery and storage facilities, a pipeline, a power plant and transmission lines, Kabagambe Kaliisa, the energy ministry's permanent secretary, told a parliamentary committee on natural resources. 'The attraction of strong and well capitalized companies... is an important benefit for the country to mitigate against the imminent financing/investment risk in the sector' Kaliisa said. Licensed oil companies in Uganda were unable to raise that much capital, he said.
Russia's LUKOIL is the latest oil firm that has said it plans to invest in Uganda's petroleum industry, following China's CNOOC and France's Total (TOTF.PA), among others. Kaliisa said the government was now evaluating Total and CNOOC, the two companies picked by Tullow Oil as potential partners after it buys Heritage Oil's 50 percent stake in Blocks 1 and 3A. Tullow's bid for Heritage's assets got a major boost when Italy's Eni withdrew from the race. Total and CNOOC had been invited to pitch their plans for development to the government, Kaliisa said.
A decision on Tullow's proposed purchase of Heritage's assets will be made after the government scrutinizes the sale and purchase and joint operating agreements signed between Tullow, CNOOC and Total. Uganda would earn $300 million to $400 million in capital gains taxes on Heritage's sale of its stakes and a larger, but undetermined sum, from any transactions that might occur between Tullow, CNOOC and Total, Kaliisa said.
State Minister for Minerals, Peter Lokeris, had signaled that approval of the Heritage sale was imminent. But sources told Reuters it might take a month or more as the evaluation of Total and CNOOC's proposals was moving slowly. Kaliisa said government endorsement of any transactions would depend on a 'criteria based on investment required, market capitalization of a company, operator experience, avoidance of monopoly situation and alignment with government strategy.'
Uganda: A new oil province (Source: Tullow Oil)
Oil seeps have been identified on the shores of Lake Albert for many years and the first exploration well was drilled there in 1938, encountering oil shows and clearly demonstrating that oil was sourcing in the basin. However, it was over 60 years before any further activity took place. During 2004 and 2005 extensive 2D seismic data was acquired in both Blocks 2 and 3A and this data identified structures with good hydrocarbon trapping potential. The existence of a working seal and reservoir to trap oil in commercial quantities could only then be understood through drilling.
In early-2006, Tullow and its partners drilled the first well, since 1938, in the Kaiso-Tonya region. The Mputa-1 well was a discovery encountering good quality reservoir and 33° API oil. This was followed by the Waraga-1 well, a discovery that was flow tested at a combined rate of over 12,000 bopd, and the Nzizi well, an oil and gas discovery that was also successfully flow tested. Combined, these results demonstrated that the Lake Albert Rift Basin was a working hydrocarbon system.
Tullow then embarked on a major exploration campaign to discover sufficient volumes for commercial development. In total, around 30 wells have been drilled in the basin from Kingfisher-1 in the south to Buffalo-1, 150 km to the north. All but one of these wells has encountered hydrocarbons and proven up over 700 million barrels of oil resources. This is sufficient volume to exceed the commercial threshold for development.
Further exploration and appraisal work could expand the basins resources to over two billion barrels. Drilling recommenced in Block 2 with the successful appraisal of the Kasamene-2 well which was announced in January 2010. An accelerated exploration and appraisal drilling programme is due to start in the second quarter of 2010.
In parallel, Tullow has put a development team in place to consider options for developing and commercialising this major hydrocarbon basin. Following consultation with the Ugandan Government, Tullow opened a dataroom in October 2009 to facilitate the part sale of its Ugandan assets. The Group's ultimate aim is to retain a material stake in the basin and to work with a like-minded partner who will bring downstream expertise to the development. A decision on the most suitable partner is expected early in 2010 to coincide with the conclusion of the sale of Heritage's Ugandan assets to Tullow which is subject to approval form the Government of Uganda.

Source: Reuters
back to top