News listings
energy-pedia exploration

Ethiopia
Ethiopia: SouthWest Energy signs with Tullow Oil for Ogaden oil exploration
03 Mar 2010
SouthWest Energy (Ethiopia), a company largely owned by Tewodros Ashenafi, is reported to have signed a deal with Tullow Oil to farm into three blocks - Blocks 9, 9A & 13 - covering 29,000 sq kms in the Ogaden Basin of Eastern Ethiopia. Following a comprehensive two year study, SouthWest Energy signed a production sharing agreement with the Ministry of Mines and Energy (MoME) in 2007.

Tewodros, also chairman and chief executive officer of SouthWest Energy, announced his latest deal with the UK company at a business lunch held at the Intercontinental Hotel, in honour of visiting trade and investment mission delegates from the British based Eastern Africa Association (EAA) on Thursday, February 24 2010. He came back from a trip to London on Thursday morning, where he had signed the deal with Tullow, Tewodros, one of the two speakers at the luncheon, with Zemedeneh Negatu, managing partner of Ernst & Young, told delegates.
Tullow's decision to enter the Ethiopian market is a major confidence booster for the country and its energy sector, experts in the industry say. Tullow will now be the second company operating in the Ogaden, following the Malaysian oil company, Petronas.
Background
SouthWest Energy is the first and only local Ethiopian company to successfully obtain an energy concession in Ethiopia. SouthWest Energy's initial focus is on the Ogaden Basin, the largest proven hydrocarbon basin in Ethiopia, with 3Tcf proved reserves. SouthWest Energy has secured Blocks 9, 9A and 13 in Ethiopia's Ogaden Basin. These blocks cover 29,000 sq kms in an 'oil prone' part of Ogaden Basin. The initial PSA agreement was signed in December 2005.
These blocks have a high prospectivity for oil rather than gas due to a shallower burial depth which makes it possible that potential Karoo age source rocks are still in the oil window. Recent reprocessing and reinterpretation of 2D seismic covering 15% of Blocks 9 and 13 yielded at least 16 prospects and leads, including two prospects with over 500 million BOE recoverable unrisked.

As part of its continuing development strategy SouthWest has agreed in principle to a joint study of one of the more prospective Rift Valley plays with the Ministry of Mines and Energy. This 60,000 sq km block is know as the Jimma block and is located in south central Ethiopia. The study agreement will give SouthWest right of first refusal over this acreage.
The original Petronas led multi year study of the Ogaden basin resulted in Petronas acquiring 8 blocks. Petronas has signed a deal committing USD3 billion to gas development activities in the Ogaden Basin.
Potentially attractive economics based on the terms of the Production Sharing Agreement (PSA) SouthWest Energy has entered into with the Government of Ethiopia and potentially low drilling costs (USD10 - 12 million/well) relative to prospectivity (large structures).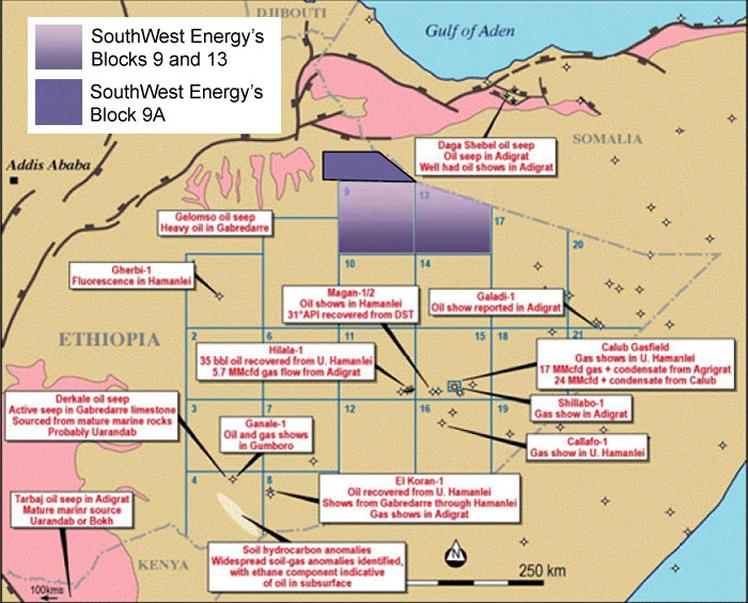 For further information regarding the SWE blocks, visit: http://somalitalk.com/oil/swe.html
Source: energy-pedia
back to top