News listings
energy-pedia general news

Albania
Albania: Bankers Petroleum provides operational update for Q1 2012
10 Apr 2012

Bankers Petroleum has announced a first quarter update on its operations in Albania.

Production and Oil Prices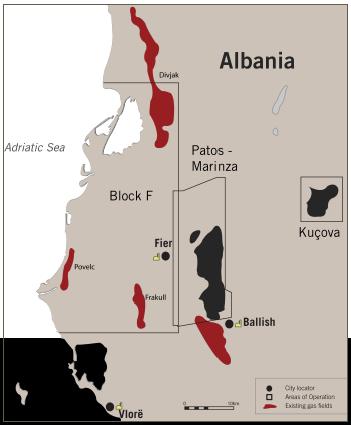 The average first quarter 2012 production was 14,120 barrels of oil per day (bopd), 2% higher than the fourth quarter 2011 rate. Oil sales from the Patos-Marinza oilfield in Albania during the quarter averaged 13,280 bopd.

The crude oil inventory at March 31st was 312,000 barrels, an increase of 71,000 barrels from December 31st, 2011, accounting for the minimum inventory increase with expansion of the central treatment facility in the oilfield and addition of the sales crude pipeline from the oilfield to Fier; both projects were commissioned during the quarter.

The Patos-Marinza first quarter average oil price was approx. US$84.89 per barrel (representing 72% of the Brent oil price of US$118.49 per barrel), as compared with the fourth quarter average oil price of US$71.67 per barrel (66% of Brent oil). Recent negotiations for spot export crude sales, including one with a large European refiner, have been priced at 75 to 78% of Brent for 2012 volumes.

Drilling and Well Reactivations Update

Twenty-seven (27) wells have been drilled during the first quarter: twenty-four (24) horizontal production wells and three (3) water disposal wells. An additional water disposal well has recently finished drilling and will commence disposal operations in April. One vertical exploration well is currently drilling on Block 'F'. Twenty-two (22) of the horizontal wells have been completed and are on production.

With the newly expanded water disposal capacity, the Company expects to see gradual growth in production over the next several quarters by placing on production several oil wells with high water cuts that were shut-in due to the limited water capacity and enabling higher drawn-down production to improve oil rates from several wells.

Reactivation and recompletion work continued in the first quarter with seven (7) new reactivations and recompletions.
Thermal Program
Operations commenced at the Southern Patos cyclic steam pilot in December 2011 with injection into the first horizontal well 5201. The Company placed this well on production in January and have recovered approx. 150% of cold water equivalent injected. Optimization of the well is continuing to evaluate reservoir fluid mobility and oil quality. In addition, the Company recently started the un-steamed horizontal offset well 5202 on cold production to establish a base line production level to evaluate incremental gain from thermal operations.

The thermal model has been updated with the most recent core and petrophysical data, and with the empirical data from the pilot, will be calibrated over the coming months.

Exploration Block 'F'

The first Block 'F' exploration well on the Ardenica structural prospect was spud on March 29th; it is currently drilling at a depth of 2,000 meters and is anticipated to reach total depth of 2,030 meters. Following well log evaluation for indications of hydrocarbon presence, completion and testing operations will begin in the second quarter.

Infrastructure Development

The first phase of the crude oil sales pipeline, which connects the Patos-Marinza oilfield to Bankers' storage and loading hub facility at Fier was completed and commenced operations in January. The expanded central treatment facility is also complete with the addition of two new treating trains and commenced operations in January, increasing the field treating capacity to 25,000 bopd.

The Company drilled three water disposal wells during the quarter and finished drilling a fourth new disposal well in early April. With these additional wells and surface facilities infrastructure, the water disposal capacity has been increased from 30,000 barrels of water per day to in excess of 40,000 barrels of water per day. This capacity increase was required for ongoing drilling operations as well as the water control initiatives within the field.

Kuçova

Water injection into well F-38 commenced last year and two offset wells, F34 and F41, were placed on production in December. An additional injector was added in January of this year to complete the first water-flood pattern. Water-flood balancing is ongoing.

Environmental initiatives

The Sector III environmental remediation and reclamation project summary report was completed this quarter. Installation of 130 groundwater monitoring wells in the field area to assess shallow surface water and soil for impacts from historical operations has also been completed; final reports are expected by the third quarter.

The Company has initiated the sludge treatment facility engineering and design and anticipates having equipment on the ground in the third quarter to commence larger scale waste sludge treatment in the field area. In addition, planning is underway for the high temperature thermal desorption unit pilot project to treat hydrocarbon contaminated soils.

Updated Corporate Presentation

For additional information on this operational update, see the April 2012 version of the Company's corporate presentation.
Source: Bankers Petroleum
back to top