Echo Energy, the Latin American focused upstream oil and gas company, has provided an update in respect of Company's internal estimates of reserves and resources attributable to Echo's 70% non-operated working interest in the producing Santa Cruz Sur blocks, onshore Argentina, as at 31 December 2019. In addition, Echo has provided further detail on an identified well workover programme and other production enhancement opportunities contained within the Santa Cruz Sur portfolio.
From 1 November 2019 to 31 December 2019 a total of 152,819 boe (consisting of 34,466 bbls of oil and 710.1 MMscf of gas) net to Echo was successfully produced from Santa Cruz Sur, at an average rate of a net 2,505 boepd. Production continued during Q1 2020 at an average net rate of 2,394 boepd.
The Company is pleased to confirm the identification of an initial portfolio of sixteen low cost workover and intervention operations at Santa Cruz Sur focussed on 1P proven developed non producing ('PDNP') and 2P reserve intervals - with the intention of bringing those volumes into production and, therefore, migrating the associated volumes to proven developed producing ('PDP') reserves. The cost of workover potentials identified is low, as compared to the cost of a new well, and given that the workovers sit in the developed part of the field, they are straight forward to bring online.
This initial portfolio of opportunities is part of a wider portfolio of Santa Cruz Sur workover and interventions, which includes further opportunities to increase production and reserves, currently being assessed by the Santa Cruz Sur partners.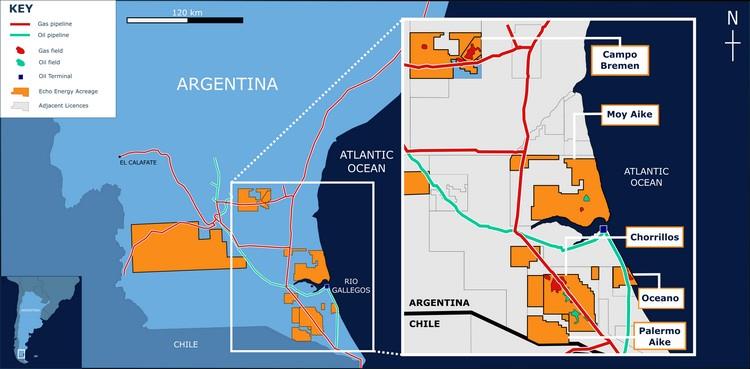 Estimated Santa Cruz Sur Reserves as at 31 December 2019
Reflecting production from Santa Cruz Sur during 2019, the Company's estimates of Santa Cruz Sur reserves as at 31 December 2019 are as set out below.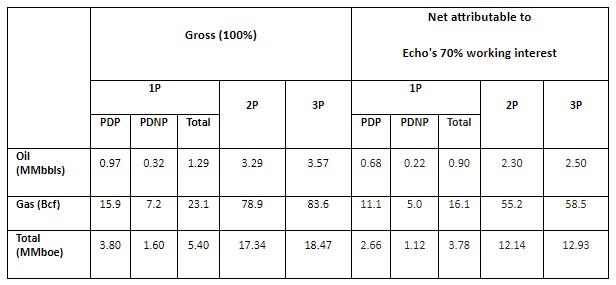 Estimated Santa Cruz Sur Unrisked Prospective Resources as at 31 December 2019
Based on the resource inventory as at 31 December 2019 of then operator of the Santa Cruz Sur assets, Roch S.A. , which provides exploration potential in addition to already identified reserve-based projects at Santa Cruz Sur, the Company's estimates of Santa Cruz Sur prospective resources as at 31 December 2019 are detailed below. These volumes relate only to the the Palermo Aike area. Further work to assess prospective resources in all five Santa Cruz Sur blocks is ongoing and further disclosure to the market will be made, where appropriate, in the future.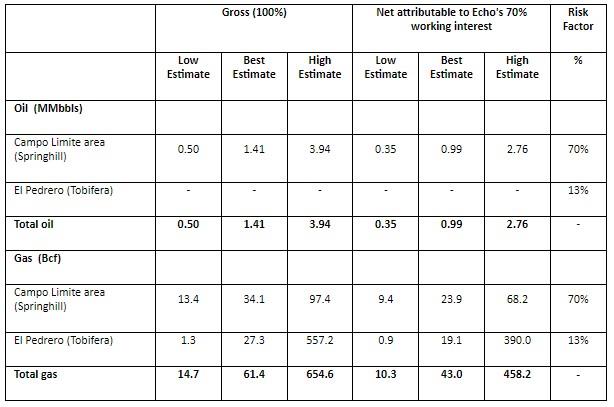 Workover Programme Update
The Company previously announced that the Eagle workover rig, owned by Echo and its partners in the Santa Cruz Sur assets, had been redeployed from Campo Limite to commence a standard programme of well interventions and maintenance and that the first well intervention being undertaken, in the Chorillos block, was assessing the production potential of bringing a historical well back online in a small field at Santa Cruz Sur. The Company confirmed that the expected new production potential of the currently non-producing well was estimated at 41 bopd when brought into production, following a swab test that produced a cumulative 280 bbls of oil over 48-hour period. This successful workover operation earlier this year provides confidence in pursuing further opportunities in the workover portfolio to increase production.
Echo is now pleased to confirm that in addition to the successful operation described above, an initial portfolio of sixteen workovers, focussed on seeking to bring PDNP & 2P reserves intervals into production, has now been matured. Of this portfolio of potential projects, four initial opportunities (consisting of 3 well workovers to bring associated PDNP 1P reserves into production and one project targeting 2P reserves) are estimated to be capable of adding expected combined additional production of up to 4.8 MMscf/d of gas and 84 bopd (total combined additional production potential of 884 boepd). These 4 initial opportunities offer a combined estimated value of approximately US $9 million in NPV10 uplift based on an aggregate gross cost of approximately US $1 million and fast payback periods of between two to six months. This uplift potential assumes a realised sales price of US $32/bbl and a gas price of US $3.5/mmbtu. The remaining twelve opportunities in the initial portfolio could each be capable of increasing gross production by up to 0.6 MMscf/d and 91 bbl/d. The Company continues efforts to identify and mature further production enhancement opportunities over and above the 16 already assessed to provide further growth and value to shareholders.
CEO Martin Hull commented:
'The addition of the important work in maturing the production enhancement opportunities recomfirms the flexibility and range of well-balanced risk-reward upside options contained within the Santa Cruz Sur portfolio. In addition to the existing revenue generating producing proved reserves, the combination of PDNP 1P and 2P production enhancement opportunities with exploration upside provides a diversified portfolio in a single set of assets at Santa Cruz Sur.'
The Company will update on further developments when appropriate. A new presentation reviewing the Santa Cruz Sur opportunities will shortly be available on the Company website: www.echoenergyplc.com
Source: Echo Energy