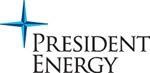 AIM-listed President Energy, the energy company with a diverse portfolio of production and exploration assets focused primarily in South America has announced its updated reserves and contingent resources assessed as at 31 December 2020.
Highlights
Argentina reserves and contingent resources have been independently certified according to Argentina law with Louisiana reserves internally assessed
Group net 2P Reserves of over 24 MMboe limited to current life remaining of concessions taking no account of the anticipated early extension of such contracts
Significant contingent resources in producing areas awaiting conversion to reserves after contract terms are prolonged
The Company expects to drill record number of new wells this year in drive to produce more reserves
Paraguay exploration PMean internally estimated at in excess of 536 MMbo undiscovered oil-in-place are in addition to the figures reported today
Peter Levine, Chairman, commented
'The robust Group reserves and contingent resources of President assessed as at the end of last year, combined with the enshrined legal right to extend our all our Argentine licences, underlines our production potential for years to come in a country with long term hydrocarbon needs.
'It is important to note that the reserves as at 31 December 2020 do not represent the total of what is present and/or recoverable in the respective fields but only rather what are present and/or recoverable over the term of President's current licenses as at the audit date. In practise, the Company intends to exercise its legal right to extend its Rio Negro licenses beyond their current terms and therefore as is discussed the total present and/or recoverable reserves in the ground are materially higher.
'We look forward to delivering on that potential in 2021, with a record actual and contingent work programme announced on 20 January, including a prospective return to drilling in Puesto Guardian. This year's work is supported by more stable realisation prices in the markets we serve combined with both federal government and provincial investment incentives in Argentina'.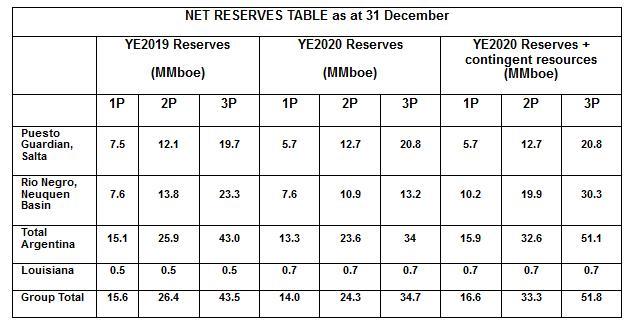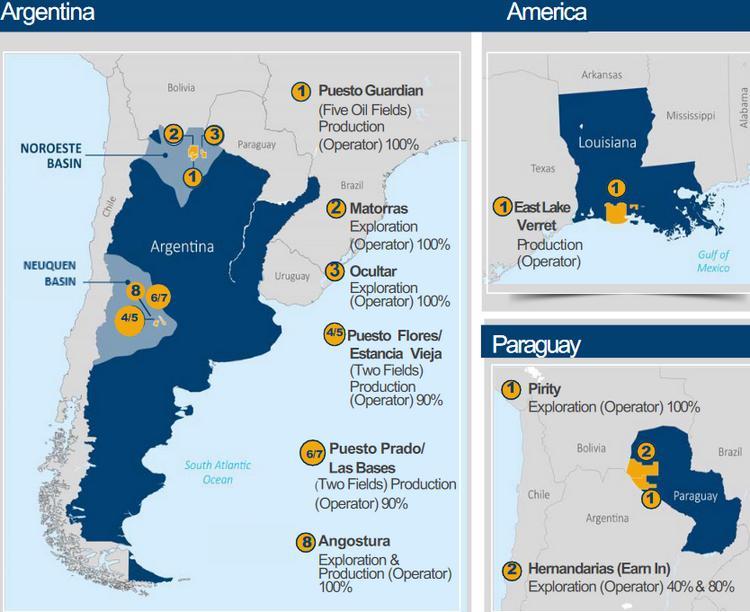 Argentina Reserves
President has received an independently certified report on its reserves and contingent resources in Argentina assessed at 31 December 2020 which have been determined in accordance with Argentine law and will be filed with the appropriate regulatory authority. In compliance with the relevant regulations, the reserves auditors are changed each year to ensure independence.
Brief details of the reserves and contingent resources are set out in the table above. For the purpose of the reserves calculation, the base oil prices taken are Brent US$50 per barrel for 2021 and US$60 per barrel flat thereafter over the remaining life of the concessions in Argentina and of the wells in Louisiana. In Argentina a discount is always applied to Brent price. So that on the US$50 per barrel Brent used as at end of last year, the realisable price would be US$45 or less depending on the production source. Gas prices in Argentina are calculated at flat rates of US$2.2 per MMBtu for summer and US$3.2 per MMBtu for winter. By way of comparison, it is estimated that the actual realisable prices in February at President's core producing Rio Negro assets are approximately US$52 per barrel of oil taking into account the prevailing higher Brent prices.
The reduction in Argentine reserves year on year are reflective inter alia of the hydrocarbons produced in the relevant year, and critically the diminishing time remaining on the relevant concessions. The number of years remaining at each concession dictate and restrict the amount of reportable reserves; i.e. only hydrocarbons that can be extracted during the present contract period are taken into account.
Rio Negro
President will exercise its entrenched legal rights to renew and extend its core Puesto Flores/Estancia Vieja concession currently due to expire in November 2027, for a further ten years until November 2037 in accordance with the relevant sections of the Argentine Federal Hydrocarbons Law (the "Law"). These sections provide President definitive and inalienable right to extend the concession term by successive periods of ten years thereby giving President the time and ability in the future to fully exploit the production potential of the relevant areas.
Concrete discussions with the Province of Rio Negro with regard to such extension are anticipated to take place later this year with a view to concluding the same before the year end. Such extension will have a positive effect on reserves as hydrocarbons during the prolonged period move from the contingent resources categories to the more definitive reserve categories. Definitions of both reserves and resources are set out in the Glossary below.
Salta
In Salta, where the long-term Concession extends to 2050, President is in the preliminary stage of planning to finally return to drilling later this year with three new vertical production wells as well as 3D seismic data acquisition. In the event of success these would be the first new producing wells at the Puesto Guardian Concession for nearly 10 years which is itself a testament to the long life of the current well stock. These wells would complement the already firm drilling programme in Rio Negro in the first part of this year with the four committed wells there within H1 representing the highest number of individual wells drilled by President in any year since the Company first arrived in Rio Negro in 2017.
In terms of Salta, President's realisable prices in the Reserves report are calculated at US$38 per barrel on the basis of US$50 Brent. By way of comparison actual realisable prices for Salta in February are estimated at approximately US$45.
Louisiana
In relation to Louisiana due to robust production, the expected life of the wells have been extended resulting in a modest increase in internally estimated reserves all of which fall into the 1P category.
Paraguay
The figures reported today properly and appropriately take no account of any exploration resources in Paraguay which are internally assessed at over 536 MMbo of Pmean undiscovered oil-in-place.
Source: President Energy
© Energy 365 Limited. All Rights Reserved.
All articles on this website are protected by the Copyright, Designs and Patents Act 1988.
Whilst news, facts and information are not subject to copyright, the creation of a story from those facts is. Whilst third parties can legally quote our work under 'fair dealing' it is illegal to lift articles in their entirety. We will immediately seek royalty payments from third parties who copy our work.