Highlights
Beach to acquire a 30% interest in exploration permit PEP50119, offshore New Zealand.
PEP50119 contains the undrilled Tawhaki exploration prospect, which has a mapped closure area ofup to 470 km2.
Tawhaki-1 is expected to be drilled in early calendar 2020.
Beach's share of costs is estimated at approx. $25 million (NZ$27 million).
Beach Energy has reached agreement with OMV to acquire a 30% participating interest in exploration permit PEP50119 in the Great South Basin, offshore New Zealand.
Under the agreement, Beach will acquire a 30% participating interest in the permit in exchange for funding a 30% share of the Tawhaki-1 well cost and the associated work program and budget.
The estimated capital exposure is approx. $25 million net to Beach.The transaction is subject to New Zealand government and regulator approval.
Following completion,Beach's interest in PEP50119 will be 30%, with operator OMV holding a 52.93% interest and Mitsui E&P Australia holding 17.07%.
Tawhaki prospect
The PEP50119 exploration permit contains the large Tawhaki prospect and other leads. Tawhaki is a basement drape structural trap with up to 470km2 under structural closure. The prospect is defined by modern, high-quality 3D seismic data and interpreted to have Cretaceous reservoirs of similar age and quality to the excellent sandstones encountered in Caravel-1, approx. 130km to the north in PEP38264 (Beach 37.5% and operator). The Tawhaki-1 well is planned to be drilled in early calendar 2020 by the COSL Prospector rig as part of a larger OMV-led drilling campaign.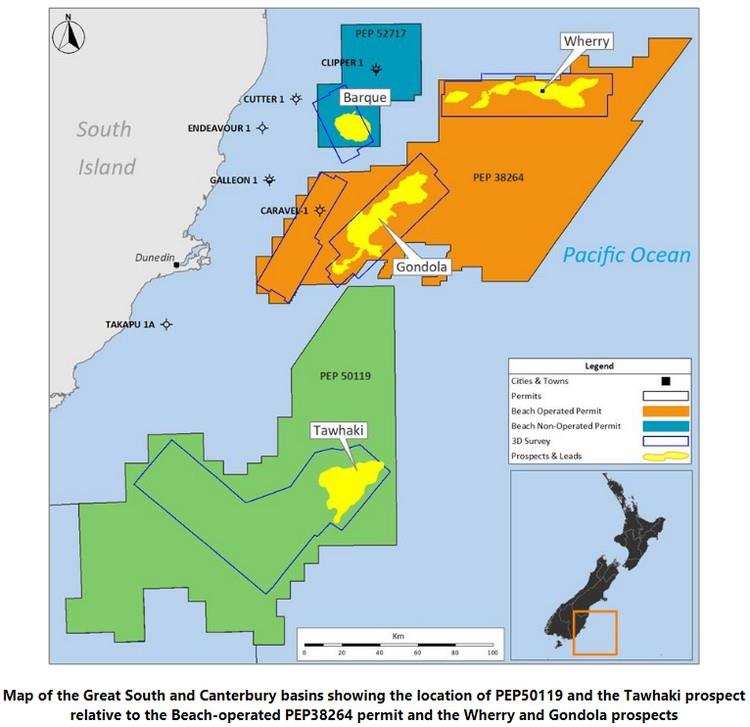 Beach's CEO, Matt Kay, said:
'Beach continually assesses high impact exploration opportunities in Australia and New Zealand to add to its growth portfolio. After undertaking extensive geological and commercial due diligence, we believe theTawhaki prospect provides an attractive exploration opportunity.
'Tawhaki is one of three frontier exploration wells Beach will participate in over the next 18 months, the others being Wherry to the north of Tawhaki and Ironbark in the Carnarvon Basin. All three wells have the potential to add material resource volumes to Beach in a success case. We are also excited to collaborate with high quality joint venture participants in OMV and to build on our relationship with Mitsui.
Source: Beach Energy