Highlights
Currajong-1

–

conventional oil exploration well spudded on

1 July

2021

Targeting mean

prospective resources of 28 million barrels

Expected total depth of

2,300

metres

with

drilling

completion in late July

to early August

Currajong-1 to be followed by Rafael-1

conventional oil exploration well
Currajong-1
Buru Energy has advised that the Currajong-1 exploration well was spudded at 10:00 hours on Thursday, 1 July 2021.
Currajong-1 is located some 30 kms to the west of the Ungani Oilfield and some 70 kms east of Broome. The well is in Exploration Permit 391 in the Canning Basin in northwest Western Australia.
The Currajong-1 exploration well is being drilled on a large structurethat is well defined by 3D seismic. The structure has a vertical closure of over 200 metres and is fault bounded with two way dip closure.It is expected to have similar good quality reservoirand oil propertiesto the Ungani Oilfield and is at similar depths.
The Currajong-1 well is being drilled by the Ensign 963 rig as a vertical well to a planned total measured depth of 2,300 metres and is expected to be completed by late July or early August.
Buru and Origin Energy each have a 50% equity interest in the well and in EP 391.
In light of the current general COVID19 situation in Australia, Buru and its contractors have put in place appropriate protocols and controls to manage the situation and comply with all Government directions. Under current restrictions there is not expected to be any material disruption to the program, but the situation is being closely monitored.
Program Background
Currajong-1 is the first well in the exploration program under the terms of the farmin agreements executed in December last year, under which Buru will be carried for $16 million of the cost of the drilling of the two exploration wells in the program (Currajong 1 and Rafael 1), in addition to a further significant seismic program carry across several Buru operated permits.The full details of these agreements are set out in the ASX Releases 'Farm-out of Buru's Canning Basin portfolio' and 'Farm-out of EP457 and EP458' dated 21 December 2020.
Currajong-1 Prospective Resources
The Prospective Resources of the Currajong prospect are set out below. The Prospective Resources are located on EP 391 with Buru holding a 50% interest in that permit and in the following Prospective Resources:

The estimate of the chance of discovery of the 'Best Estimate' of prospective resources is 26%.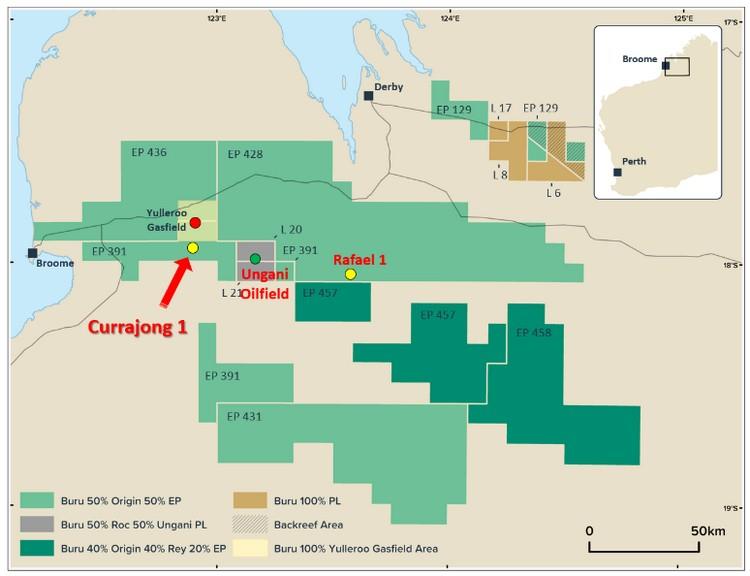 Buru's Executive Chairman Eric Streitberg commented:
'We are delighted to be kicking off the most extensive drilling and seismic program in the Canning Basin for many years. We are very pleased to be using a modern high capacity rig and we have worked diligently with the rig owners, Ensign Drilling, to ensure it is fully fit for purpose for the program before our final acceptance of the rig and the spud of the well.
With the oil price currently approximately A$100 a barrel, and our existing infrastructure and operating experience in the basin, we are well placed to monetise any discovery.
A success at Currajong would also high grade the other similar prospects in that area with significant further potential along the trend.
We are also very much looking forward to the next well in the program, Rafael-1 which is a large conventional oil prospect that could be of national significance if it is a discovery.'
Source: Buru Energy