Commissioning of Orbost Gas Processing Plant resumed by APA following shutdown
Sole supplying gas into Eastern Gas Pipeline
Stable production at 28TJ/dayafter 36hours operation; to be increased as commissioning proceeds
Cooper Energy has provided an update to its previous advice of 8 May 2020 on the commissioning of the Orbost Gas Processing Plant. The gas plant is owned and operatedby APA Group (ASX: APA).
Background
The gas plant is being commissioned to processgas from Cooper Energy's Sole gas field for supply to customers in south-east Australia. Completion of plant commissioning will enable commencement of the field's term supply contracts, and commencement of processing tariff payments by Cooper Energy to APA Group.The gas plant has proven its capability to produce sales specification gas from the Sole raw gas stream. A total of 0.8 petajoules of gas from Sole has been processed and supplied into the Eastern Gas Pipeline up to 21 May 2020 (inclusive). APA, its technology provider and Cooper Energy havebeen working collaboratively to improve plant performance to the level required for commissioning to be completed. This work included a shutdown of the gas plantfrom 9 May to permit inspection, conduct maintenance and complete minor modifications within the sulphur recovery unit. The Sole reservoir and wells have performed consistent with expectations.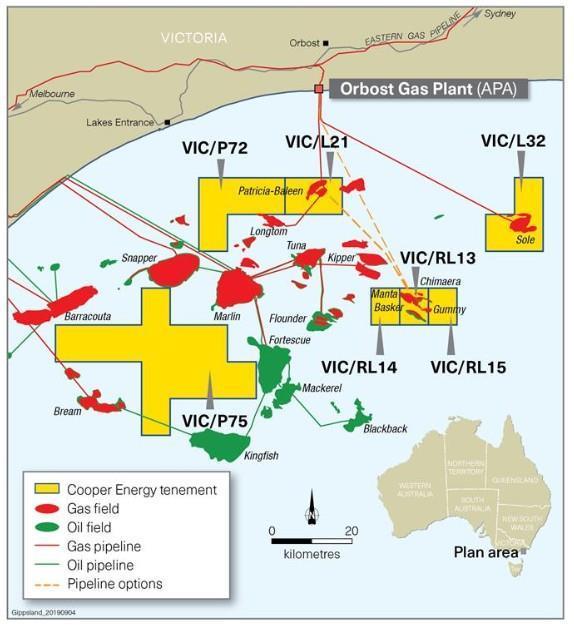 Status update
The shutdown work program was completed in full and plant operations resumed on 20 May 2020.Supply of Sole gas into the Eastern Gas Pipeline recommenced at approx. 8 pm on that day. Ongoing commissioning plans are to achieve a progressive, sustained increase inoutput rates whilst maintaining stable plant operation. It is intended this be achieved gradually through a series of step changes whereby production rates are increased, then maintained whilst plant operation is monitored and assessed prior to proceeding to the next increment, with the ultimate target being 68 terajoules per day (TJ/day). The plant is currently in the initial phase of this program, having maintained stable production rates equivalent to 28TJ/day. It is intended further update on the outcome of the commissioning program will be provided on completion or as material developments occur.
Source: Cooper Energy