News listings
energy-pedia development and production

Australia
Australia: Eastern Star Gas Bibblewindi West CSG production pilot flows in excess of 2 million SCFD
22 Dec 2009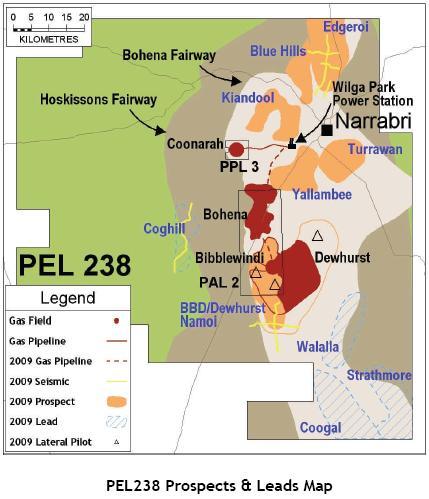 Eastern Star Gas, as operator of the Narrabri Coal Seam Gas Project, has announced gas production from the Bibblewindi West tri-lateral production pilot is now in excess of 2.0 million standard cubic feet per day. Water production from the pilot continues at approximately 3500 barrels per day with in excess of 550 metres of head (water) pressure still to be removed.
In announcing the flow rate Mr Casey, Managing Director of ESG, said that "while early days, these results are not only an outstanding success for the Namoi Seam in its own right, but also augur well for the ongoing performance of the Bibblewindi multi-lateral pilot, where the Bohena coal seam is more than 5 times thicker, and where dewatering is actually at a less advanced stage".
Mr Casey added "the remarkable rate of ramp up in gas production from the Bibblewindi West production pilot has been achieved following commencement of dewatering only one month ago". Mr Casey concluded "the performance already achieved at Bibblewindi West substantiates our decision to test the Namoi coal seam. We expect the Namoi coal seam will not only make an important contribution to future reserve upgrades but is again a strong indicator of the potential performance of the more areally extensive and significantly thicker Bohena Seam".
Eastern Star Gas, is focused on exploration, development and production of coal seam gas in Australia. The Company's main activity, the Narrabri Coal Seam Gas Project, is located in Petroleum Exploration Licence 238 adjacent to the township of Narrabri in the state of New South Wales Australia.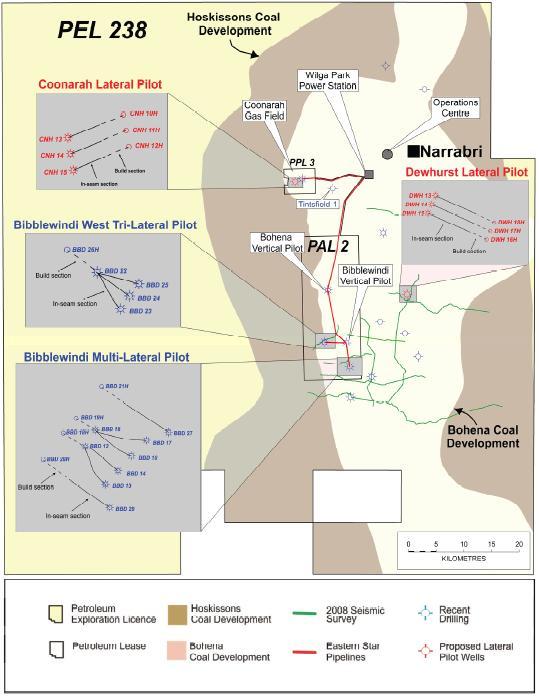 ESG holds a 65.0% interest in the PEL 238 and is the Operator. The remaining 35% interest is held by Santos. PEL 238 covers 9,100 kms² (2.25 million acres) of the Gunnedah Basin, the most lightly explored portion of the Bowen-Gunnedah-Sydney Basin complex, which presently supplies a large proportion of Australia's coal seam gas production. Production testing is underway at four locations; the Bibblewindi vertical pilot, Bibblewindi multi-lateral pilot, Bibblewindi West multi-lateral pilot and Bohena vertical pilot. As at 30 June 2009, certified 2P reserves increased by 79% to 602 PJ (of which ESG's net interest is 392 PJ).
The updated gas reserves estimate takes into account the flow testing of the Bibblewindi West multi-lateral pilot and the outstanding results from coreholes and appraisal vertical wells drilled across the Dewhurst area. At the same time certified 3P reserves increased by 51% to 1,959 PJ (of which ESG's net interest is 1,273 PJ).
Further upgrading of reserves will be generated in 2009/10 in PEL238 through an ongoing corehole programme and the tie in and completion of 2 additional lateral production pilots at Dewhurst and Tintsfield. Like the Bibblewindi multi-lateral pilots, new pilots will incorporate in-seam, or horizontal wells with a length of around 750 - 1,000m (up to 3,300 feet) drilled perpendicular to the fracture system of the target coal seams.
This well design maximises connectivity with the coal, resulting in many times greater flow rates than can be achieved from vertical, fracture stimulated wells.

Test gas from the production pilots is delivered by flowline to the joint venture's Wilga Park Power Station, which will, be expanded to take production test gas in addition to gas currently supplied from ESG's Coonarah gas field. MoU's for the supply of gas from PEL 238 have been signed with Macquarie Generation (up to 500 PJ) and Babcock & Brown (up to 40 PJ/a).
Source: Eastern Star Gas
back to top