Comet Ridge welcomes the approval decision from the NSW Independent Planning Commission (IPC) for Santos' Narrabri Gas Project and has provided an operational update in relation to Comet Ridge's substantial acreage position to the north and west of this project.
Key points:
Comet Ridge holds a substantialgas acreage position in northern central NSW.
Comet Ridge anticipates a return to exploration and appraisal in the key PEL427 and PEL6 permits.
Comet Ridge is not a participant in the recently approved Narrabri Gas Project, however the Company holds an acreage position across the area to the north and west of this project. Santos and Comet Ridge are joint venture participants in these permits - PEL 6, PEL 427 and PEL 428. Figure 1 shows the location in central northern NSW.
The equity ownership structure of these permits is stratified, with different interest levels and different Operators for conventional (sandstone) gas and coal seam gas (CSG) targets. Comet Ridge holds almost all the conventional gas equity and is the Operator. Santos is the Operator for CSG. Table 1 below summarises the Comet Ridge equity position for these targets by permit.

There has been very limited exploration activity on these blocks for a number of years with the last well drilled in 2010. However, there is recent emphasis from Federal and State governments to input more natural gas into the east coast gas market for the benefit of manufacturers and the economy more broadly.
Santos, on behalf of the joint venture participants, has submitted renewal applications for these three permits (including the required relinquishment of the least prospective areas). Renewals of these exploration permits will allow exploration and appraisal in this northern central part of NSW to re-commence.
Comet Ridge Managing Director, Tor McCaul, said these blocks are highly prospective for natural gas, with a number of wells having been drilled in the past, particularly in the southern part of PEL427 and across PEL6.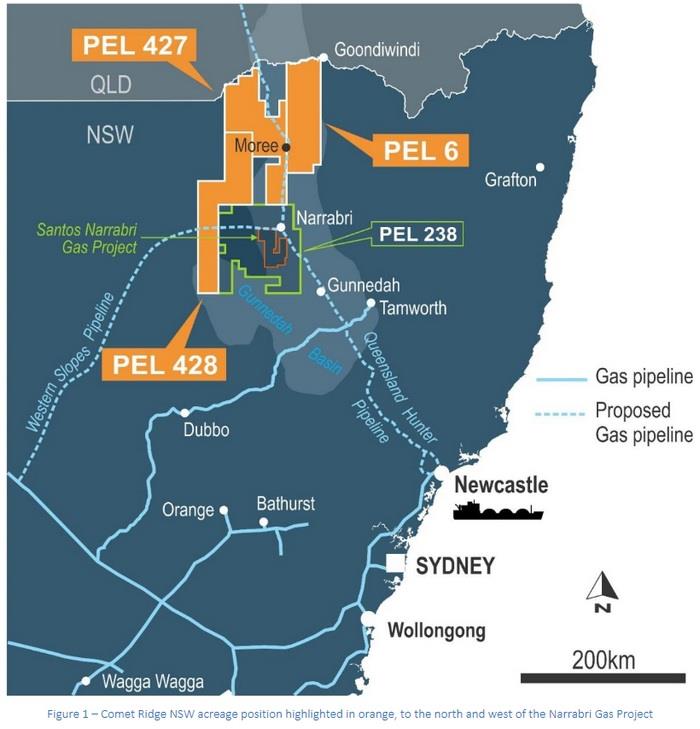 The Company will provide further updates to the market in due course.
Source: Comet Ridge