Highlights
Norwest Energy approves drilling of high impact Lockyer Deep gas prospect in H1 2020
Conventional Kingia/High Cliff targets offer prospective resources of up to 1.12 Tcf gas and have been substantially de-risked by nearby West Erregulla-2 and Beharra Springs Deep discoveries
Norwest Energy well funded to participate at full 20% working interest*

Norwest Energy has approved a joint venture resolution to drill the EP368 exploration well in H1 2020 at Lockyer Deep. The well location is situated approx. 15 kms due east of the Waitsia gas field and directly on trend with the recent West Erregulla-2 gas discovery which, as recently reported by Strike Energy, has 2C contingent resources of 1.19Tcf gas.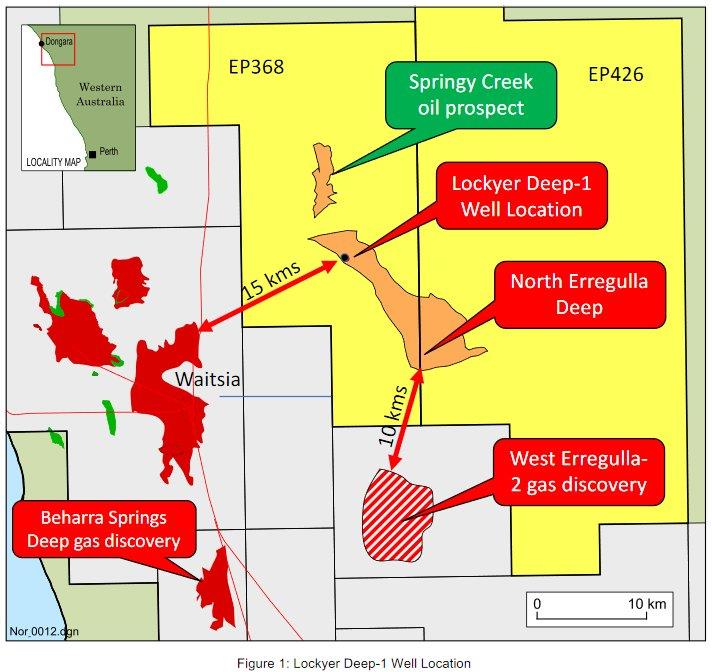 Geological Chance of Success
The Lockyer Deep-1 location offers the highest Geological Chance of Success (GCoS) for testing of the Permian Kingia/High Cliff conventional gas play within the combined Lockyer-North Erregulla Deep greater structure (Figure 2), for which Norwest Energy estimates prospective resources of up to 1.12 Tcf gas (gross, recoverable). Norwest Energy's current estimate of GCoS is 29%, however Beach Energy's recent Beharra Springs Deep discovery is thought to further mitigate the geological risk at Lockyer-North Erregulla Deep due to the analogous structural setting. Norwest Energy is presently re-evaluating the GCoS for the Lockyer Deep location and will announce its revised estimateduring December 2019.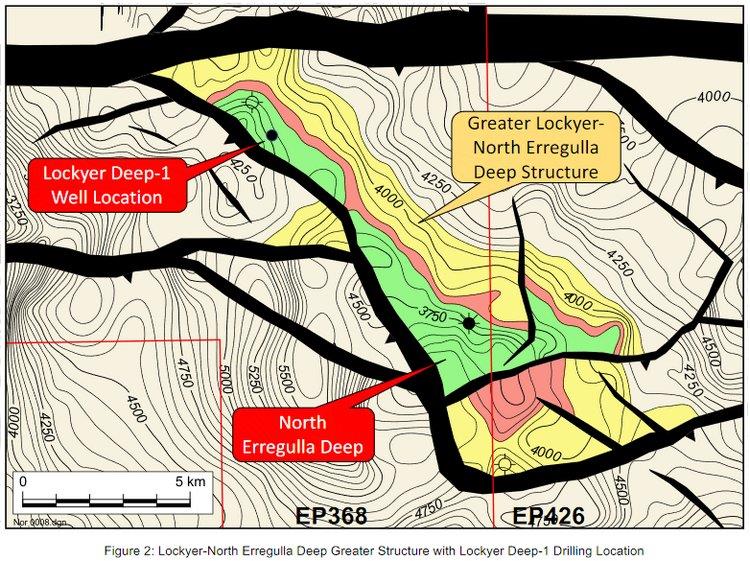 Prospective Resources
Norwest Energy's estimate of prospective gas resources (recoverable) for the Kingia and High Cliff Formations at Lockyer-North Erregulla Deep is as follows:

Additional potential may exist within the Wagina Formation as encountered at West Erregulla-2, however Norwest Energy does not attribute prospective resources to this level at this time due to the lower Geological Chance of Success (GCoS). Please refer to the Company's announcement of 28 October 2019 for more detail.
Logistics
Operator Energy Resources Limited (ERL) has secured land access to the well location for preparation and construction of the Lockyer Deep-1 well pad, through a Drilling Land Access Agreement on standard terms with the landowner. The prognosed depth for the Top Kingia target is approx. 3,900etres TVDSS, and ERL is in discussions with various third parties in order to secure a suitable drilling rig to drill during the first half of 2020. Further to the recent resurgence of activity within the basin Norwest Energy anticipates that a number of appraisal/developmentand exploration wells will be drilled by various third parties throughout 2020, and that a suitable drilling rig will be available for contracting to the EP368 Joint Venture.
Norwest Energy Funded to Drill
The Company has completed a placement to sophisticated and institutional investors raising $3.3million, and has opened a Share Purchase Plan (SPP) to existing shareholders on the same terms as the placement. Norwest Energy is fully funded to participate in the Lockyer Deep-1 exploration well at the Company's 20% working interest.The SPP offer closes on 13 December 2019.
Commenting on the selection of the Lockyer Deep target, Norwest Energy's Managing Director, Iain Smith, said:
'In 2020 Norwest Energy will participate in a well that has the potential to be truly transformational for the Company. Recent exploration success within the Kingia/High Cliff play has resulted in a quantum shift in the way the industry views the basin and we are fortunate to be perfectly placed within the play's sweet spot. With a 100% success rate for the three wells that have targeted this play in recent times, we hope to build on that success to make it four from four.'
EP368 Joint Venture - Norwest Energy (20%), Energy Resources Limited (a division of Mineral Resources Ltd, Operator & 80%)
Source: Norwest Energy