News listings
energy-pedia development and production

Australia
Australia: Origin venture spuds Jingemia oil development well in Northern Perth Basin
23 Jul 2009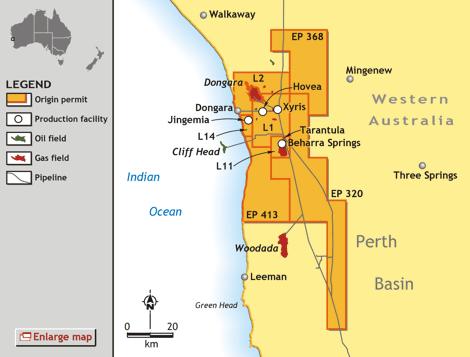 Origin Energy, on behalf of the L14 Joint Venture parties, has advised that the Jingemia-12 oil development well commenced drilling on 18 July 2009 with the Weatherford drilling rig 826. A 311 millimetre (12-1/4 inch) surface section was drilled to section total depth of 536 metres measured depth and 244 millimetres (9-5/8 inch) surface casing was run and cemented to a depth of 533 metres.
At 0830 hours Western Standard Time today, the well had reached 675 metres and was drilling ahead.
Well type and location: Oil development well, Jingemia field, North Perth Basin, Western Australia (L14)
The Jingemia-12 is being drilled as a directional well to intersect the oil-bearing Dongara Sandstone in a crestal location in the Jingemia Oil Field at around 2550 metres measured depth. The Jingemia-12 surface location is approximately 80m south of Jingemia-11 surface location.
The target location is 150m NNE of the Jingemia-11 intersection with the Dongara Sandstone target horizon.
The interests are: Origin Energy Developments Pty Limited* 49.189%, ARC Energy Limited** 44.141%, Victoria Petroleum Offshore Pty Ltd 5.00%, Norwest Energy NL 1.278%, Roc Oil (WA) Pty Limited 0.25% and John K Geary 0.142%.
*a wholly owned subsidiary of Origin Energy Limited
**a wholly owned subsidiary of Australian Worldwide Exploration Limited
Source: AWE

back to top