SPA to effect merger with Warrego via a reverse takeover signed
Completion of RTO planned for 19 February 2019
EGM to approve reverse takeover scheduled for 18 February 2019
Upon completion combined entity will hold a 50% interest in North Perth Basin EP469 containing the West Erregulla Prospect
West Erregulla-2 drilling to commence in first half of 2019

Petrel Energy and Warrego Energy has announced the signing of a Share Purchase Agreement (the 'SPA') agreeing the merger of the two groups via a reverse takeover (the 'RTO'). The SPA fully defines the RTO which will be effected by the acquisition by Petrel of all the shares of Warrego, a private UK company. As consideration for the RTO, Warrego shareholders will receive fully paid ordinary shares in Petrel, which will represent approx. 77% of the issued share capital of Petrel.

Warrego holds the North Perth Basin Exploration Permit 469 ('EP469') in Western Australia. In June 2018, Strike Energy farmed into 50% of the permit. Strike agreed to fund the first A$11,000,000 of expenditure on the West Erregulla-2 well, paid A$600,000 to Warrego and became the operator. Strike and Warrego are preparing to drill the West Erregulla-2 well in the first half of 2019 which has very similar attributes to the nearby Mitsui/AWE Waitsia wells. It is adjacent to existing gas infrastructure and two major pipelines. West Erregulla-2 (and any further necessary appraisal wells) represents a material standalone conventional gas prospect with prospective volumes potentially up to 1.24 TCF (as announced by Strike on 8 June 2018).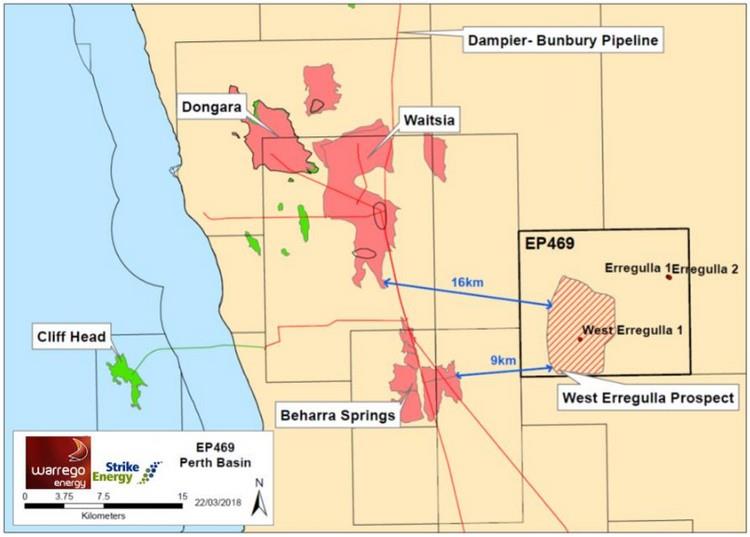 Petrel will continue energetically to work towards an admission to trading on the AIM market in London. Continuing uncertainty in the London markets around Brexit mean that this is now likely to occur in a window just prior to, or shortly after, the drilling of West Erregulla-2. The AIM listing is not a condition of the SPA. Hitting the right market conditions will be an important factor to maximise value for shareholders.

In addition to the West Erregulla-2 well in the first half of 2019, Petrel and Prospex Oil and Gas are aiming to drill Tesorillo-1 (Cadiz Spain) slightly later in 2019. Both wells are primarily funded by their partners (up to A$11m by Strike at West Erregulla-2, and up to A$6m by Prospex at Tesorillo-1). Both Petrel and Warrego have 50% interests in each asset. The residual exposure for the enlarged entity remains limited to 50% of any project cost overruns in excess of these amounts for each well.

CEO and Managing Director of Petrel, David Casey said:
'It's very rewarding that we have been able to agree final binding terms in such short order on what is definitely a transformative transaction for both Petrel and Warrego. I believe this is in large part due to the obvious project and corporate synergies but also important similar philosophical approaches to building what has the potential to be a very large international energy business. At the end of the day the scale of the combined portfolio along with the immediacy of next year's drilling at West Erregulla makes this a very compelling opportunity for all stakeholders and investors alike.

As good as the West Erregulla opportunity is, I think it's also important to acknowledge the potential of Tesorillo-1, particularly on the back of Petrel's AIM listed partner recently increasing its stake in the project to 15% ahead of the proposed drilling of a well towards the end of next year. The combined company is in
the enviable position of having a portfolio of material assets with very large carried interests in two truly company transforming wells in 2019.'

Warrego Managing Director Dennis Donald said:
'Warrego shares its Australian partner's enthusiasm for the merging of not only the respective companies' assets but their skills sets, technical abilities and entrepreneurial approaches. We are committed to closing the RTO with Petrel and focusing on our strategy of maximising the international assets of the new listed company.'
Source: Petrel Energy