Strike Energy has provided an update on behalf of the EP469 Joint Venture.
Current Operations
After a successful and safe mobilisation, Rig 970 has raised its mast and substructure, commissioned its top drive and the drilling and services crews have transitioned to 24hr operations. Third-party inspections have also been completed. West Erregulla 3 will formally commence drilling this afternoon and will then drill ahead in the first hole section.
Forward Plan
Drilling of the 26" surface hole section from the pre-installed conductor to a nominal depth of 1, 200m.
About the West Erregulla Appraisal Campaign
Up to three appraisal wells will be drilled in the West Erregulla field, which is located in EP469. The appraisal wells will be drilled down to ~5,000m with West Erregulla 3 designed to test the continuation of the commercial gas accumulation in the northern fault block and West Erregulla 4 (and 5) to appraise the reservoir distribution in the central fault block. After various coring and logging operations all three wells will be flow tested (on success) and completed as future producers across the Kingia / High Cliff sequences for the proposed Phase 1 production operations. The Wagina gas discovery made in West Erregulla-2 will be appraised during the West Erregulla 4 & 5 wells.
The West Erregulla wells are to be executed at the following coordinates:
West Erregulla 3: 29° 22' 40.79" S, 115° 18' 30.70" E
West Erregulla 4 (proposed): 29° 25' 8.89" S, 115° 19' 18.15" E
West Erregulla 5 (proposed): 29° 24' 1.72" S, 115° 18' 27.17" E
Strike Energy, is operator and the holder of a 50% joint venture interest in EP469, and Warrego Energy a holder of the other 50% joint venture interest.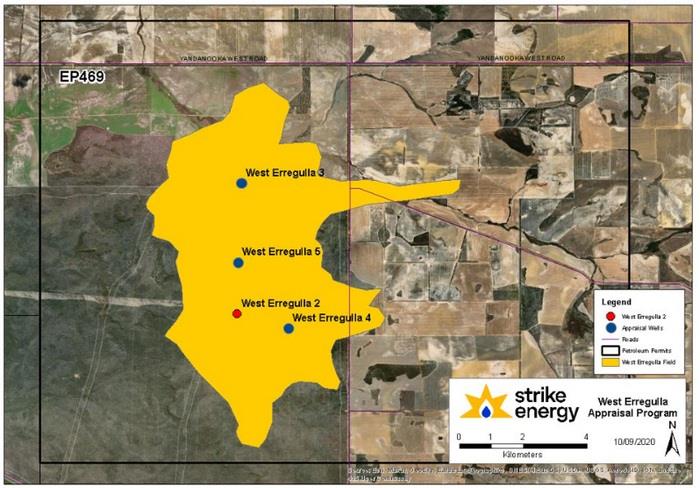 Source: Strike Energy