Reconnaissance Energy Africa (ReconAfrica) has provided an update on its Petroleum Licence (Exploration Licence 001/2020) in the Kavango sedimentary basin, Botswana.
ReconAfrica recognises and accepts the importance of pertinent cultural and historical sites. As such the Tsodilo Hills, located in north-west Botswana near the Namibian Border, a UNESCO World Heritage Site, has always been recognized by the Company, as a site with this specific, highly important, designation.
To this regard, ReconAfrica and the Government of Botswana began a process in October of 2020 to address this important issue. As a direct result of their collaborative process, the Republic of Botswana has now issued an updated Licence to ReconAfrica excluding ReconAfrica's entire Core and Buffer areas of the Tsodilo Hills. The License area is now 8990 km2 (2,221,000 acres) versus the previous 9,921 km2 (2,450,000 acres). ReconAfrica is pleased with this preferred structure as the Company has never had plans for operations in the Tsodilo Hills area. ReconAfrica follows strict environment, social and governance protocols.
ReconAfrica is committed to establishing operational transparency and working with all local and national stakeholders. In all aspects of its operations, ReconAfrica is committed to minimal disturbances in line with international best standards and will implement environmental and social best practices in all of its project areas.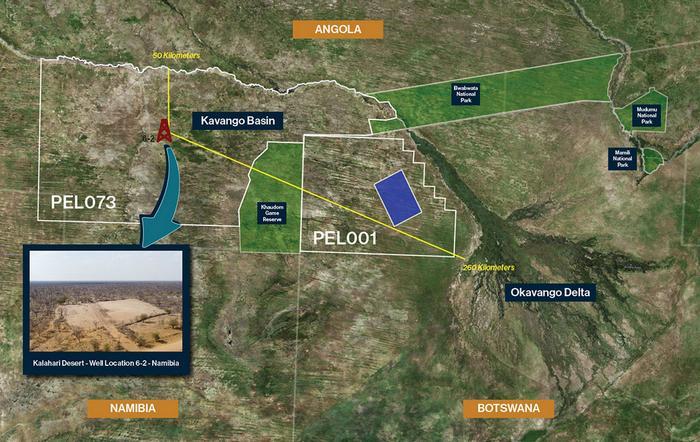 Wood Mackenzie Report on Kavango Basin
Wood Mackenzie, one of the world's leading natural resources research and consulting firms has released a report on analogous subsurface basins to the Kavango Basin, which is held by ReconAfrica under licence contracts. The study detailed three world-class basins of similar age and/or tectonic origin; the Midland-Permian Basin (Texas), the Southern North Sea Basin, and the Doba Basin in Chad (Africa). The report demonstrates how the Kavango Basin is analogous to all three, but particularly to the sizable Midland Basin. This basin is of the same age (Permian) as the Kavango and has produced from low-cost conventional reservoirs since the 1930's, the same targets ReconAfrica is pursuing.
The Report is now available for download from the ReconAfrica website.
Click here for further technical info on the Kavango Basin
See related announcement: ReconAfrica preparing to drill the deep Kavango Basin
Source: ReconAfrica
© Energy 365 Limited. All Rights Reserved.
All articles on this website are protected by the Copyright, Designs and Patents Act 1988.
Whilst news, facts and information are not subject to copyright, the creation of a story from those facts is. Whilst third parties can legally quote our work under 'fair dealing' it is illegal to lift articles in their entirety. We will immediately seek royalty payments from third parties who copy our work.