Maha Energy has announced that the recently completed Tie-2 well is free flowing oil and gas at a rate of 1,825 BOPD and 1,083 MSCFPD (2,005 BOEPD) on a 1-1/2" choke with a stable tubing-head flowing pressure. A follow up well west of Tie 2, Tie-3, was spudded on 18th December and is expected to take about 60 days to drill and complete. The completion issues with the GTE-4 well have been rectified and the well is now being cleaned up and flowing oil and gas to the Tie Production Facilities.
Jonas Lindvall, CEO of Maha Energy commented:
'The Tie-2 well is delivering oil rates above expectations and with the issues with the GTE-4 completion now behind us we are finally heading in the right direction in Brazil. We now leave 2020 behind us and look forward to a strong start to 2021 underpinned by a solid production capacity.'
Tie-2 (Tie Field)

The Tie-2 well (7-TIE-2D-BA) has now been tied into the production facilities at Tie. Both the Agua Grande (AG) and Sergi zones are perforated and are now comingled in a 2-7/8" single tubing completion. Initial free flow test results over a 24 hour period are as follows:
Oil Production: 1,825 BOPD
Water Production: 37 BWPD
Gas Production: 1,083 MSCFPD
BOEPD: 2,005 BOEPD
Choke Size: 1-1/2"
Flowing Wellhead Pressure: 170 psi
Tie-3 (Tie Field)

The Tie-3 (7-Tie-3D-BA) well is being drilled on the western flank of the Tie Field. The well is expected to take around 60 days to drill and complete.
GTE-4 (Tie Field)

The troublesome workover was completed on 17 December, and is now hooked up to the production facilities as a comingled producer.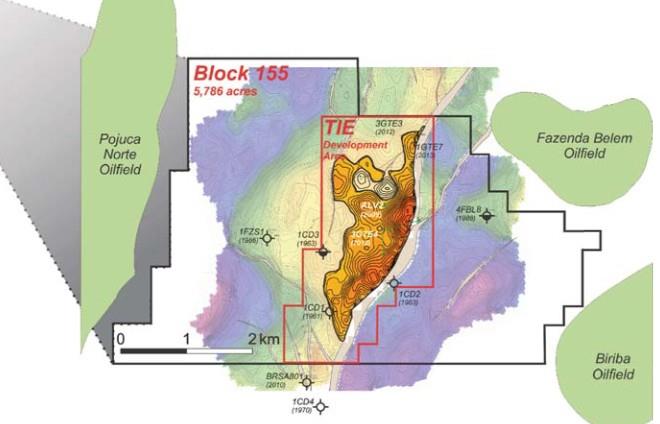 Tie light oil field
The Tie light oil field was discovered in 2009. Maha purchased the field in 2017 and immediately embarked on an expansion project of the field and the oil processing facilities. At acquisition, the Tie field was producing 1300 BOPD and the processing facilities were rated to handle up to 2000 BOPD.
During 2018 and 2019, Maha recompleted two wells and placed them on jet pumps. Maha also drilled a new producer at the crest of the structure. In parallel to the recompletions and drilling, the Tie field processing facilities were upsized to handle and process 5000 BOPD. In 2020, Maha installed two large compressors to provide the ability to reinject any unsold associated natural gas. The compression system allows the field to continue to produce oil even if the associated gas offtake is interrupted.
The oil is trucked to two customers nearby and the associated gas is compressed and also sold on the local market.
The Company also hold interests in 6 other exploration blocks in the Reconcavo Basin. These blocks are in varying stages of exploration.
Source: Maha Energy