Petrobras has started the opportunity disclosure stage (teaser) for the sale of its total stakes in the exploratory blocks belonging to the PAR-T-175-R14, PAR-T-198-R12, and PAR-T-218-R12 Concessions, located onshore in the Paraná Basin.

The teaser, which includes key information about the opportunity, as well as the eligibility criteria for selection of potential participants, is available on Petrobras' Investor Relations website: https://www.investidorpetrobras.com.br/en/results-and-notices/teasers.

The main subsequent stages of the project will be reported to the market in due course.

This disclosure is in accordance with Petrobras' internal rules and with the provisions of the special procedure for assignment of rights to exploration, development and production of oil, natural gas and other fluid hydrocarbons, provided for in Decree 9,355/2018.

This transaction is in line with the company's strategy of portfolio optimization, debt reduction, and capital allocation improvement, as it increasingly concentrates its resources in world-class assets in deep and ultradeep waters, where Petrobras has shown a great competitive differential over the years.

About the Concessions

The PAR-T-198-R12 and PAR-T-218-R12 Concessions, located in the far west of the state of São Paulo, were acquired in the 12th ANP Bidding Round in 2013 and are currently in their 1st Exploratory Period and with Minimum Exploratory Program (MEP) commitments already fully met. Petrobras holds 100% interest.

The PAR-T-175-R14 Concession, located in the eastern portion of the state of Mato Grosso do Sul, was acquired in the 14th ANP Bidding Round in 2017 and has a Single Exploratory Period of 6 years. Petrobras holds 100% interest.
Click here for Paraná Basin teaser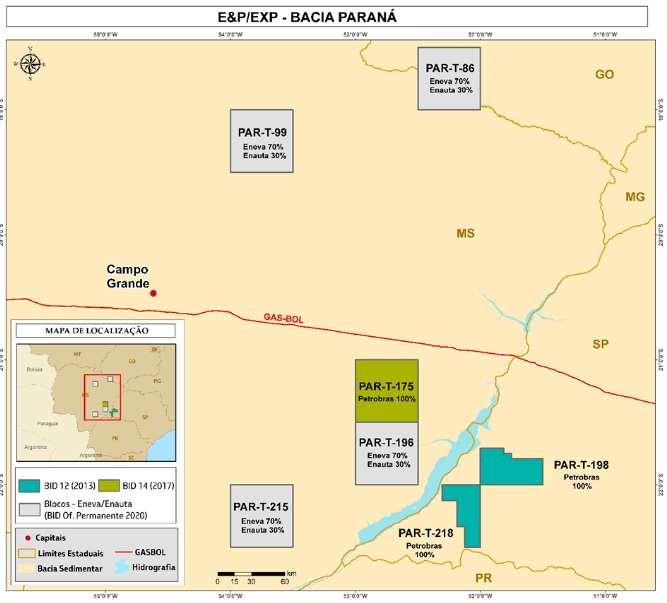 Source: Petrobras