Spectrum is set to further strengthen its industry-leading position in offshore Brazilian seismic with a new Multi-Client acquisition program in the Campos Santos basin. The Phase III survey is an extension of Spectrum's 2017 Santos Campos Phase II survey, covering an area in the southern Santos Basin. This new data incorporates areas included in the Round 16 licensing proposal, scheduled for 2019. With this additional program, Spectrum will provide over 47,000 km of modern 2D long offset seismic data to industry for evaluation of this highly prolific Santos Campos hydrocarbon province.
The survey is being acquired with a 12,000 m cable to record data necessary to understand basin architecture as well as to image prospective zones in the pre-salt section. The data will be processed in Spectrum's Houston imaging center with PSTM, PSDM (Kirchhoff and RTM) and Broadband products expected to be available in Q3 2018.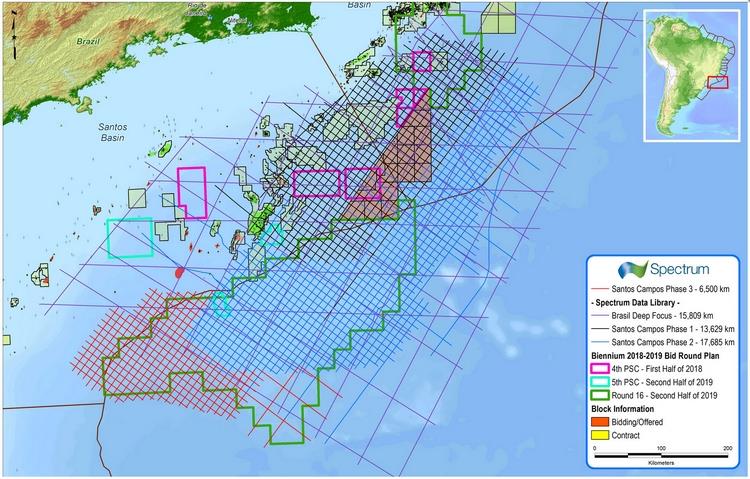 Richie Miller, EVP Multi-Client Americas, comments:
'The Santos Basin of Brazil is one of the most attractive basins in the world. Adding new seismic data with advanced imaging over an area in the Santos Basin with limited exploration history or data allows for industry to work this data and understand the complete Santos Basin for the first time. Phase III will cover additional rift basins identified by our existing regional Deep Focus survey, and complete the coverage of the sectors proposed for Round 16.'
This survey will be carried out in partnership with BGP Marine.
Source: Spectrum