News listings
energy-pedia exploration

Cameroon
Cameroon: Bowleven announces oil & gas condensate discoveries at Sapele-3
14 Oct 2011
Bowleven, the West Africa focused oil and gas exploration group traded on AIM, has announced the discovery of oil at the Sapele-3 exploration well drilling in the Douala Basin, offshore Cameroon.
Highlights
11 metres of independently assessed net hydrocarbon pay intersected within upper part of Deep Omicron interval; up to further 11 metres (net) is currently interpreted as having either ahigh residual hydrocarbon or a hydrocarbon bearing response from logs.
Majority of reservoir located in two gross sand packages exhibiting high net to gross ratios and good quality reservoir; packages appear to correlate back to earlier Sapele wells.
Samples confirm excellent quality oil bearing sands encountered at current TD; intention to continue drilling to base of Deep Omicron interval.
Confirmed presence of oil in the Deep Omicron interval at Sapele-3 extends fairway significantly beyond current mapped area. Consequently, a significant upward revision to Deep Omicron volumetrics is now anticipated.
Additional gas/condensate discovery made in high quality reservoir at D1-r equivalent level; extent and size of discovery is worthy of further evaluation.
Sapele-3 drilling update
The Sapele-3 well is located circa 16 kms North West of Sapele-1 and circa 13 kms North West of the D-1r wells. The well is drilling in water depths of approx. 30 metres. The well was initially designed to target the shallower Miocene play including the reservoir interval previously encountered at D1-r. Due to optimised well design it has also been possible to deepen the well into what is the Deep Omicron equivalent interval encountered with previous Sapele wells.
Bowleven, as operator, provides updates for the reservoir intervals encountered at Sapele-3 below: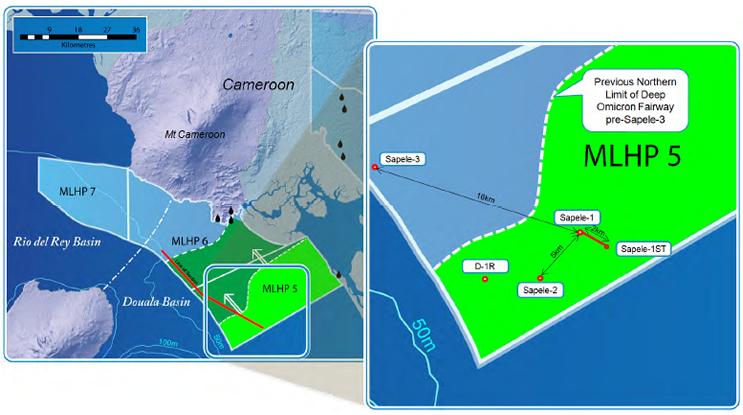 Deep Omicron interval (oil)
The well has encountered 11 metres of independently log evaluated hydrocarbon pay in high quality sandstone reservoirs within the Deep Omicron stratigraphic interval intersected by previous Sapele wells. In addition, a further 24 metres of net sand was encountered, of which up to 11 metres is currently interpreted as having either a high residual hydrocarbon or a hydrocarbon bearing response from logs. Further evaluation to determine whether this is pay or not is pending.
Wireline logs indicate that the majority of reservoir has been encountered within two distinct packages within the upper part of the Deep Omicron interval that can be correlated to the earlier Sapele discovery wells. The logs also indicate high net to gross ratios through these packages.
As the well is only two thirds of the way through the Deep Omicron interval and has encountered excellent quality oil bearing reservoir at current total depth (TD), the intention is to recommence drilling to the base of Deep Omicron. The presence of light oil at current TD has been confirmed by sampling. Testing plans will be assessed on reaching final TD.
The confirmed presence of oil in the Deep Omicron interval at Sapele-3, 16 kilometres from the original Deep Omicron discovery at Sapele-1, extends the currently mapped Deep Omicron fairway significantly Northwards into MLHP-6. Consequently a significant increase in current Deep Omicron in-place volumetrics is anticipated.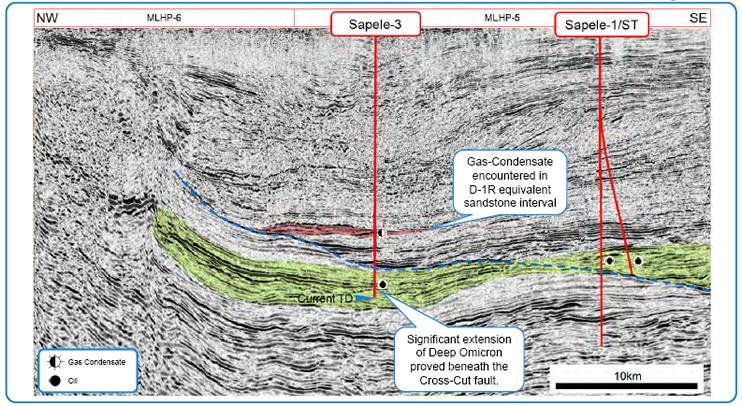 Miocene interval
At the shallower Miocene (D1-r) equivalent interval target, a 7 metre high quality sandstone was encountered with a 1 metre gas-condensate column. The extent and size of the discovery is worthy of further evaluation.
Additional information
Presentation slides relating to Sapele-3 are available on the Company's web site - click here. Further announcements on drilling activities will be made as appropriate. Updated volumetrics will be provided in due course.
The joint venture partner, Vitol, elected not to participate in the drilling of the Sapele-3 exploration well. Consequently Bowleven, as operator, is drilling this well on a sole risk basis.
Kevin Hart, Chief Executive of Bowleven plc, commented:
'We are excited with results so far at Sapele-3. The Deep Omicron interval continues to deliver and the confirmed presence of oil and good quality reservoir at this location further emphasises the significance of this play within the Douala Basin. All four Sapele wells drilled have now encountered oil within the Deep Omicron interval, thus reinforcing the geological model and highlighting the overall development and exploration potential of the fairway. This well has also now shown that the Deep Omicron interval extends considerably beyond the currently mapped area which has significant implications in terms of both volumetrics and prospectivity potential on both block MLHP-5 and MLHP-6. In addition, the gas condensate discovery at the D1-r interval is promising and warrants further evaluation.
The results at Sapele-3 represent another step towards our overarching strategy of converting resources to reserves whilst highlighting the extensive exploration potential in the basin. We look forward with eager anticipation to the further drilling planned at Sapele-3.'
Source: Bowleven
back to top