News listings
energy-pedia exploration

Chile
Chile: Geopark confirms new Fell block oil discovery
21 Oct 2009
GeoPark Holdings has announced the successful drilling and testing of a new discovery oil well, the Yagan Norte-1 - in the Tobifera formation on the Fell Block in Chile. GeoPark operates and has a 100% working interest in the Fell Block.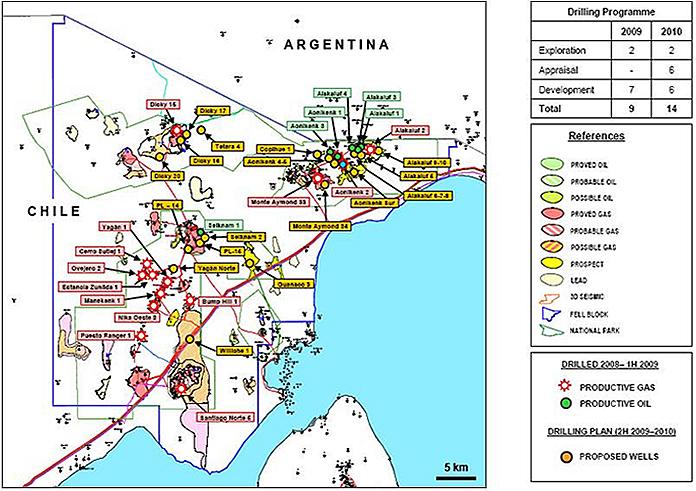 GeoPark drilled and completed the Yagan Norte-1 well to a total depth of 3,161 metres. A production test in the Tobifera formation, at approx. 3,077 metres in a 10 metre perforated interval, flowed at a rate of approx. 610 barrels per day (bpd) of oil with no water through a choke of 12 millimetres (mm) and with a well head pressure of 340 pounds per square inch (psi). These are preliminary results and further production history will be required to determine stabilised flow rates and the extent of the reservoir.
The production test in Yagan Norte-1 represents the sixth successful well drilled by GeoPark in 2009, out of six wells drilled. It is the first discovery in a new reservoir on the Fell Block by GeoPark. The Serie Tobifera is a non-conventional reservoir which GeoPark's team has successfully developed in Argentina and which has been investigated in several wells on the Fell Block.
The Springhill formation (traditional reservoir), located above the Tobifera formation, had positive hydrocarbon indications from drilling and logs and may be tested subsequently. Production facilities have been installed at the Yagan Norte well-site and the crude oil production is currently being delivered to market.
During 2009, GeoPark is carrying out a nine well drilling program on the Fell Block - and drilling is now underway on the Pampa Larga-15 well. GeoPark has also initiated start-up of activities on its two new blocks in Chile - Tranquilo and Otway, which in total cover an area of approximately 12,000 square kilometres. The Company expects to begin shooting seismic on the Tranquilo Block in December 2009 and on the Otway Block in March 2010.
Commenting, James F. Park, CEO of GeoPark, said: "The discovery of oil in the Tobifera from the Yagan Norte well is not only important because of its near term positive impact on production, revenue and reserves, but also because it opens up a potentially new play and exploration dimension on the Fell Block in Chile. A key component of GeoPark's growth story is the strength and experience of our technical team - and this new discovery reflects the results of their continuous efforts."
Source: GeoPark
back to top