News listings
energy-pedia development and production

China
China: PetroChina's Jidong Nanpu oil field smaller than originally thought
28 May 2010

A big new oil find trumpeted by PetroChina three years ago is turning out to be smaller than first thought, showing how difficult it will be for China to slow its rising need for energy imports. The Jidong Nanpu reserve, trapped under the shallow water of Bohai Bay off north China, was originally labelled one of the biggest discoveries in decades, but is proving an embarrassment after PetroChina's oil drillers realised it had been overstated and more exploration was needed to verify its size.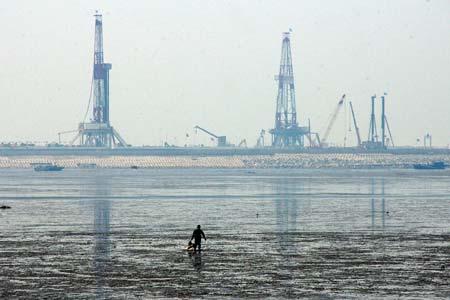 Asia's top oil and gas firm looks likely to miss an ambitious target set in May 2007 of pumping 200,000 barrels of crude per day from Jidong Nanpu by 2012, or 10 percent of the firm's current output.
For China, the world's second-largest energy user, the lack of a big new oilfield means it will have to maintain heavy investments to recover reserves at ageing main fields such as Daqing and Shengli, and push for organic, rapid growth in cleaner fuel natural gas. It also means China needs to acquire more overseas assets, along the lines of CNOOC's purchase last month of a $3.1-billion stake in Argentina's Bridas Energy and Sinochem's $3 billion deal to buy a 40% stake in Statoil's Peregrino field in Brazil's offshore Campos Basin.
But with China's crude import dependence set to surge above 80 percent by 2030 from just above half now, according to the International Energy Agency, firms have a long way to go to plug that hole with acquisitions. So far their foreign equity output makes up less than 10 percent of Chinese oil demand, analysts estimate.
'China's demand is growing at about 360,000 bpd a year while overseas equity has only added 60,000 bpd a year. That means China's import dependence will continue to grow despite acquisitions,' said Gordon Kwan, head of regional energy research at Korean investment firm Mirae Asset Securities.
Source: Newswires
back to top