News listings
energy-pedia development and production

Colombia
Colombia: Amerisur Resources provides reserves update for its production assets in Colombia
20 Sep 2019

Amerisur Resources, the oil and gas producer and explorer focused onshore Colombia, has provided the following reserves update for its production assets in Colombia as at 31 July 2019 covering the Company's Indico and Mariposa fields (together CPO-5) and Platanillo field.
Reserves Update Summary
The independent reserves report was completed by McDaniel and Associates Consultants, a leading independent oil and gas industry expert
Undertaken as part of the ongoing Formal Sales Process
Total Company reserves estimated to be 15.04 MMBO 1P, 21.80 MMBO 2P and 31.13 MMBO 3P (as at 31 July 2019), with 1.2 mmboe produced in 2019 to end July
CPO-5 2P reserves estimated to be 9.5 MMBO (as at 31 July 2019)

Increased to reflect production history that indicates larger oil in place and higher recovery factors
Further drilling activity on CPO-5 is scheduled for H2 2019, commencing with the Indico-2 appraisal well. The 30-day well is planned to increase production and reserves with the potential to extend the Oil Water Contact
Production started from the Indico discovery in the CPO-5 block in January
2019 Working Interest Production to end July of 0.43 MMBO

Platanillo 2P reserves estimated to be 12.3 MMBO (as at 31 July 2019)

Lower to reflect a more conservative approach to economics late in the life of the field
Working Interest Production to end July of 0.78 MMBO
Strategic Review and Formal Sale Process ('FSP')
Multiple parties participating in the FSP following the signing of confidentiality agreements
Management presentations with interested parties currently being held in Bogotá
John Wardle, CEO of Amerisur Resources said:
'We are pleased to complete the update to our reserves and transition the review of our full portfolio to McDaniel and Associates. We have had feedback from participants in the FSP that they value the new independent assessment from McDaniel. The report highlights the near-term value of the Company's CPO-5 asset.'
Extraction of key Reserves and Resources data contained within McDaniel's report
Table 1 - A summary of the Reserves attributed to Amerisur's assets as at end July 2019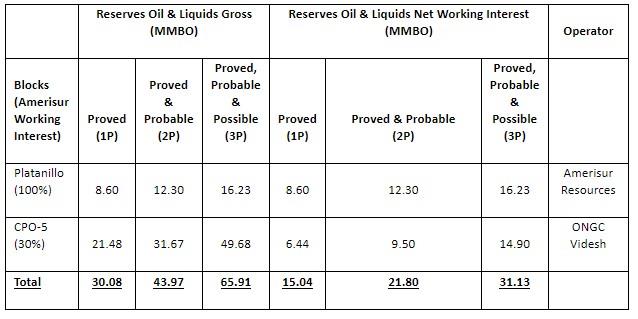 McDaniel's independent reserves report undertaken using standards set by the Oil and Gas Reserves Committee of the Society of Petroleum Engineers, certified 1P (Proven) working interest field reserves were 15.04 MMBO, 2P (Proven and Probable) working interest reserves were 21.80 MMBO and 3P (Proven, Probable and Possible) working interest reserves were 31.13 MMBO.
Standard: These assessments are made in accordance with the standard defined in the SPE/WPC Petroleum Resources Management System (2007).
Source: Amerisur Resources
back to top