News listings
energy-pedia exploration

Colombia
Colombia: Quetzal Energy announces oil discovery at Llanos 27 Block
16 Jan 2012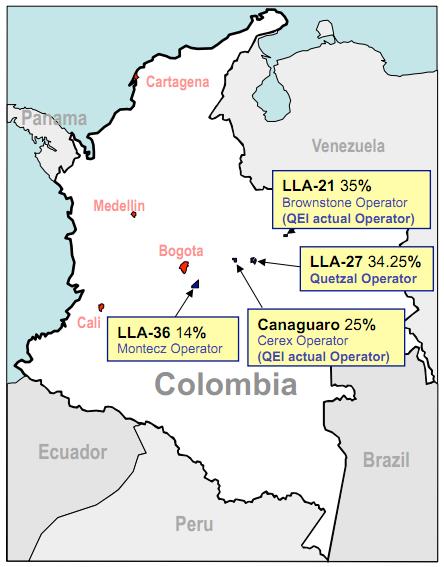 Quetzal Energy has announced an oil discovery in the Upper Mirador Formation at the Mani-1 well on the Llanos 27 Block in Colombia. Mani-1 is the first well to be drilled in Llanos 27 exploration drilling program. The well began drilling on October 21, 2011, and finished drilling at a final total depth (TD) of 10,850 feet on December 11, 2011.
Completion and testing operations commenced on December 12, 2011. Open hole well logs indicated that the key prospective formation was the Upper Mirador at 9,480 feet. Due to a failure with the liner hanger, it was necessary to conduct two remedial cement jobs to ensure proper isolation of the Mirador formation. Following this, the Upper Mirador formation was perforated at the 9,482-9,486 foot interval on January 09, 2012. ESP equipment was set and run at 9,041 feet to test the well and the pump was turned on on January 11, 2012.

Initial production rates from the test were 1,510 bbls/d of fluids with a 32% watercut equating to approx. 1,025 boe/d of 14 degree API oil. During the course of the following 57 hour test, fluid and oil production rates improved to 2,310 bbls/d of fluids and a 16% watercut equating to approx. 1,940 boe/d of 16 degree API oil. These test results are preliminary and are not necessarily an indication of the longer-term potential of the well. Additional tests will be performed once the well can be placed on an extended test.

57 Hour Test Summary

Accumulated gross oil: 2,812 barrels; Accumulated water: 898 barrels; Total fluids: 3,710 barrels.

The well was shut-in on Saturday, January 14 due to storage capacity and will remain suspended while the application is made to the Ministry of Mines in Colombia to put the well on an extended test. This application approval is expected to take up to four weeks, at which time the well can be put back on production and oil from the extended test sold to market.

The Company is paying 50% of the cost to drill and test the well to earn a private participating interest of 45.275% before payout and 34.25% after payout. NCT EG Energy Group Colombia is the official operator of the block.
Source: Quetzal Energy
back to top