News listings
energy-pedia exploration

Congo (Democratic Rep.)
DR Congo: Total announces a new discovery on the Moho-Bilondo License
06 May 2009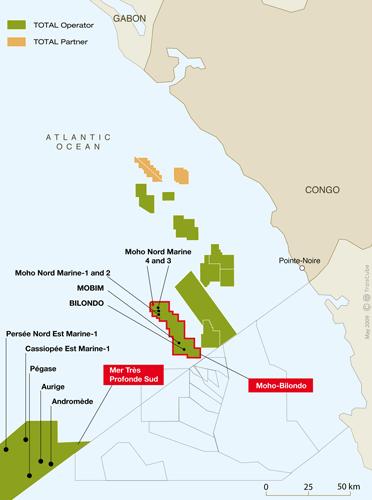 Total has announced positive results for the Moho Nord Marine-4 (MHNM-4) well, approx. 75 kms offshore of the Republic of Congo, in a water depth of 1,078 metres in the northern part of the Moho-Bilondo licence. The discovery follows on from the Moho Nord Marine-1 and 2 finds in 2007 and the positive delineation well of Moho Nord Marine-3 (MHNM-3) in 2008. These discoveries reinforce Total's confidence in the emergence of a development pole in the northern part of the Moho-Bilondo licence.
The Phase 1 development of the southern part of Moho-Bilondo, where production began in April 2008, is currently continuing with drilling of further wells that will permit the plateau of 90 000 barrels of oil equivalent per day to be reached in 2010. The development is comprised of fourteen subsea wells tied back to a Floating Production Unit (FPU) with output exported to the onshore Djéno terminal.
Total E&P Congo holds a 53.5% interest in the license, alongside Chevron Overseas Congo 31.5% and Société Nationale des Pétroles du Congo 15%.
The Moho Nord Marine-4 was drilled to a total depth of 4,239 metres, in the Albian series, 4.4 kms northwest of the Tertiary structure drilled by MHNM-3. The well proved a 163 metres column of high quality oil in the Albian F structure and flowed at 8,100 barrels per day through a 52/64" choke.
This discovery confirms the existence of significant Albian resources in the northern part of the Moho-Bilondo licence, in addition to the already recognised Tertiary and Albian A and B resources. Preliminary development studies with a view to develop the Moho Nord resources have been launched.
Source: Total

back to top