TransGlobe Energy has announced a Q4 operations update on its operations in Egypt and Canada. All dollar values are expressed in US dollars unless otherwise stated.
UPDATES
Production averaged ~15.3 MBoepd in Q4 2019 to date (October ~15.2 MBoepd, November ~15.4 MBoepd and December to date ~15.0 MBoepd) versus 15.9 MBoepd in Q3 2019;
Production facilities have been installed at South Ghazalat-6X, with the discovery well scheduled to be unloaded and commence production at a target rate of ~1000 Bopd on December 22, 2019
SHAMS-2 rig has been contracted in Egypt to drill HW-2A (Eastern Desert appraisal well to HW-2X) followed by SGZ-6A (Western Desert appraisal well to SGZ-6X), with HW-2A spud before year-end 2019;
Stimulated, equipped, and put on production four Cardium oil wells (2019 program) in the Harmattan area, Canada, during October and November;
Proceeds of ~$22 million received in December for a 451 MBbls cargo lifted in early November 2019;
Negotiations continue with the Egyptian government to amend, extend and consolidate the Company's Eastern Desert concession agreements;
PRODUCTION
Production Summary (WI before royalties and taxes):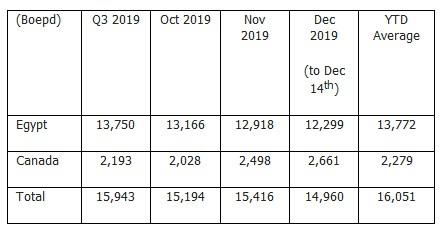 Production remains consistent with the upper end of production guidance for fiscal 2019 of 15.5 to 16.0 MBoepd. During the quarter, production decreased marginally due to natural declines in Egypt, partially offset by the commencement of production from the four 2019 Cardium drilling program wells in Canada.
OPERATIONS UPDATE
ARAB REPUBLIC OF EGYPT
Western Desert - South Ghazalat (100% WI)
Production facilities have been installed at South Ghazalat, and oil transportation agreements put in place with neighboring joint venture companies to truck the ~34 API oil to a nearby facility (~15 km), which is pipeline connected to the El Hamra Terminal located on the Mediterranean coast. As previously announced, SGZ-6X has been equipped for production from the Upper Bahariya formation only to allow reservoir evaluation, and the well is scheduled to be unloaded with coiled tubing and commence production on December 22, 2019 at an initial expected rate of ~1000 Bopd.
To optimize the rig move of the SHAMS-2 rig from the Eastern Desert, the appraisal well, SGZ-6A, will now spud in late January 2020, after drilling HW-2A (see below). If successful, SGZ-6A will also be tied into the new production facilities and produced from the Lower Bahariya formation at an expected initial production rate similar to SGZ-6X to assess reservoir performance.
Eastern Desert (100% WI)
With sustained production performance from the successful HW-2X exploration well in West Bakr, the tubing size was increased to 4½" during October, and at the present time the well is continuing to produce in excess of a field estimated 700 Bopd. To take further advantage of this, an appraisal well, HW-2A, targeting the same Yusr formation has been accelerated into December 2019, with spud using the SHAMS-2 rig anticipated before year end.
Stimulation of NWG 38 D-1 has been scheduled for late December 2019 pending availability of stimulation services.
Constructive negotiations with EGPC to amend, extend and consolidate the Company's Eastern Desert concession agreements have continued through the period. While alignment has been reached on the major components of a revised concession agreement that would incentivize the Company to significantly ramp up investment targeting increased production and reserves in these mature fields, EGPC internal processes to validate and approve any revised agreement are complex and time consuming. Considering also that the subsequent parliamentary ratification process is expected to take 4-6 months, the Company cautions that any material investments - and cash flows - generated by the anticipated successful conclusion of negotiations leading to a revised agreement are unlikely to be recognized in the first half of 2020.
Canada
The three 1-mile and one 2-mile (outpost) wells comprising the Company's 2019 Cardium drilling program have now been stimulated, equipped for production and successfully put on stream. Early production performance conforms to expectations. Additional information on individual well performance will be provided when sufficient stabilized production history has been obtained early in 2020.
Corporate
The Company has ended its joint broker relationship with GMP FirstEnergy post acquisition by Stifel Nicolaus. Canaccord Genuity continues as the Company's NOMAD and Broker.
Source: TransGlobe Energy