News listings
energy-pedia exploration

Gambia
Gambia: FAR to drill 850 mmbo Samo Prospect offshore Gambia in 2018
01 Feb 2018

FAR has completed detailed geotechnical studies and assessed significant hydrocarbon resource potential in its two blocks offshore The Gambia. The Blocks A2 and A5, covering 2,682km2, are adjacent to and on trend with FAR's world class SNE oil field and have significant eploration potential. A2 and A5 sit within the rapidly emerging and prolific Mauritania-Senegal-Guinea-Bissau-Conakry (MGBC) Basin and lie approx. 30 km offshore in water depths ranging from 50 to 1,500 metres.

From 1,504km2 of modern 3D seismic data acquired in A2 and A5, FAR has identified large prospects similar to the 'shelf edge' play FAR has successfully drilled in Senega. FAR has mapped two drillable prospects, Samo and Bambo and additional leads in the blocks.

An independent oil and gas advisory firm, RISC Operations (RISC), conducted an audit of FAR's internal estimate of Prospective Resources for the Samo and Bambo prospects. The two prospects have a combined best estimate Prospective Resource of 1.1 billion barrels on a gross unrisked basis (926 million barrels* net to FAR) as set out in Table 1 below.

FAR is progressing plans to drill the Samo prospect in late 2018.

During the period, FAR also received expressions of interest from third parties to farm into the A2 and A5 blocks.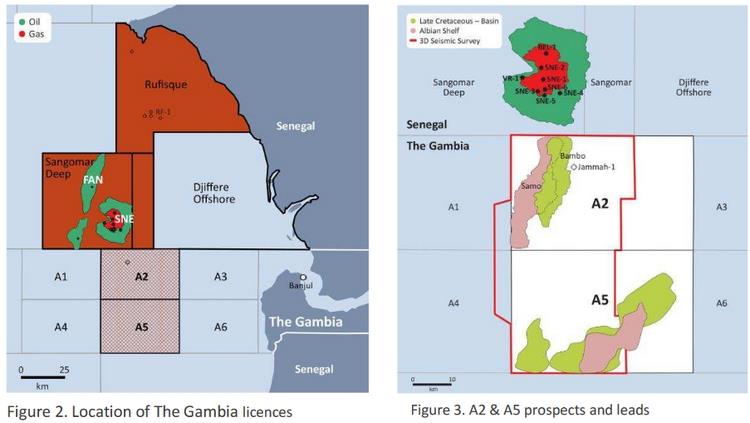 Source: FAR Limited
back to top