Highlights
Completion of Bambo drilling program, offshore The Gambia

Cash at end of period US$55.6M

ATO class ruling confirms A$80M Capital Return assessment in line with expectations
Projects update
The Gambia
Blocks A2/A5 (FAR 50% WI and Operator)
During the quarter, FAR concluded the drilling and formation evaluation operations for the Bambo-1 well and Bambo-1ST1 sidetrack well in Block A2, offshore The Gambia.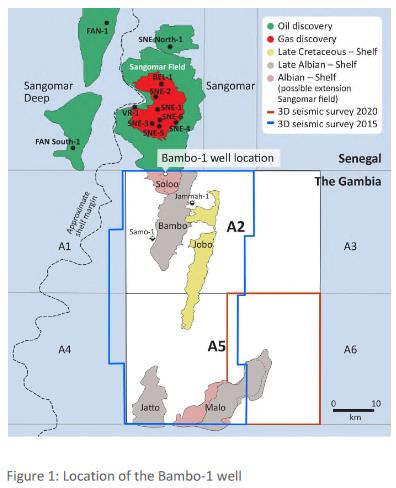 Bambo-1 was initially drilled to a depth of 3216m MDBRT (measured depth below rotary table) and wireline logging data was obtained. The Bambo-1 well was then plugged and the Bambo-1ST1 (side-track) well drilled to a depth of 3317m MDBRT after which wireline logging was conducted (refer to FAR ASX announcement dated 23 December 2021).
Although no moveable oil was interpreted, the drilling and logging data obtained on the main well and the side-track well indicate that several target intervals in the well had oil shows, confirming a prolific oil source is present in the area. Samples were recovered from several levels. The presence or otherwise of any oil will be confirmed by laboratory analysis.
The side-track well was planned to be drilled to the final total depth through all target reservoirs and also to intersect zones of interest from the main well in a different location which will provide additional data and to sample potential oil. Interpretation of the cuttings and wireline logging information indicates that these zones have been charged with oil in rather poor-quality reservoirs and in traps that might have been breached, leaving behind some residual oils in the reservoirs.
The side-track well also intersected oil shows in the Soloo Deep units not previously encountered by the original well or other wells in the area. The oil shows encountered were persistent over several hundred metres, confirming access to the prolific oil-generative kitchen is present which may open additional material exploration opportunities and running room in both the A2 and A5 Blocks. Interpretation and integration of these data are ongoing.
The drilling operations of the Bambo-1 well and Bambo-1ST1 side-track well were conducted safely and within the amended budget. The well and side-track have subsequently been plugged and abandoned consistent with the planned well abandonment program.
FAR is Operator and a 50% interest holder in the A2 Licence, offshore The Gambia in which the Bambo well has been drilled. The well fulfills the minimum work obligation of drilling one exploration well for the Initial Exploration Periods for both the A2 and A5 Licences.
FAR remains highly encouraged by the data collected in the Bambo drilling program and its implications for potentially large oil accumulations in Blocks A2 and A5 offshore The Gambia, which FAR currently has under licence with partner, Petronas. FAR is accelerating the evaluation of the well results and looks forward to announcing a revised plan for exploration in the area in the coming months.
Senegal
Rufisque, Sangomar and Sandomar Deep (FAR 0.0% Working Interest (WI))
Following the completion of the sale to Woodside, FAR has no remaining interest in the RSSD licences offshore Senegal (refer FAR ASX announcement 7 July 2021). Pursuant to the Sale and Purchase Agreement with Woodside, FAR may receive future payments of up to US$55 million from the time of first oil production from the Sangomar Field which is targeted for 2023. These payments are contingent on future oil price being above US$58 per barrel.
Guinea-Bissau (FAR 21.43% WI)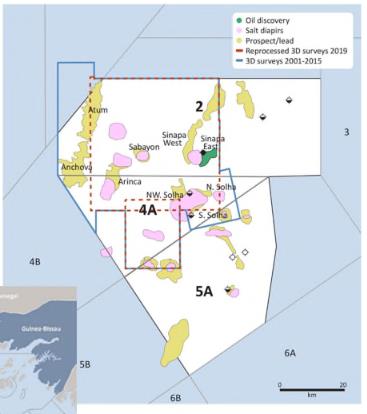 The Sinapa (Block 2) and Esperança (Blocks 4A and 5A) licences in Guinea-Bissau have been extended for 3 years and are valid until 2 October 2023 during which time there is an obligation on the Joint Venture to drill an exploration well. FAR is working with the operator, PetroNor, to finalise the 2022 work program and budget for approval and finalisation. FAR remains open to farming down it's interest prior to drilling a well.
PetroNor and FAR are undertaking a full review of a potential well location for the 2023 program with the Atum Propsect the key drill target (mapped to contain Best Estimate Prospective Resource of 471 mmbbls, gross, unrisked, 101 mmbbls net to FAR).
The Operator is also undertaking a review of the commerciality of the Sinapa discovery in the offshore shallow water. Sinapa contains 13.4 mmbbls of oil with 2.9 mmbbls net to FAR in 2C contingent resources (Best Estimate). In addition, there is an estimated 72 mmbbls of propective resource in the West and East Sinapa Prospects that are able to be tied into a potential development at Sinapa (Best Estimate, unrisked, 15.4 mmbbls net to FAR).
NW Shelf (Australia 100% WI and Operator)
Through its wholly owned subsidiary, Lightmark Enterprises Pty Ltd, FAR has a 100% interest in Petroleum Exploration Permit WA-458-P, which is in the prolific oil-producing Dampier Sub-basin along Australia's North West Shelf.
Divestment activities for some or all of FAR's interest in WA-458-P is ongoing. FAR has a 'drill or drop' obligation on the licence in early 2023.
Corporate
Shareholders approved a capital return of A$0.80 per share at a General Meeting held on 15 September and payment was made on 28 September. On 13 October 2021, FAR announced that the ATO had published a class ruling confirming that no part of the Capital Return will be assessable as a dividend. The Ruling also confirms that qualifying shareholders will be entitled to treat any resulting capital gain as a discount capital gain and that certain foreign resident Shareholders will be entitled to disregard any resulting capital gain or loss.
FAR had US$55.6M cash at the end of the period (including US$1.1M in restricted cash held in The Gambia Joint Venture account). During the period, FAR completed drilling operations on the Bambo drilling program (inclusive of the Bambo-1 and Bambo-1ST1 side-track wells). FAR's share of the Bambo program is expected to be US$28.8M, with US$15.3M expected to be paid in Q1.
Further to the previous quarterly report, the Company has taken further steps to reduce costs and expects employment, administration and corporate costs for the forthcoming quarter to be US$0.82M.
FAR's strong cash position allows FAR to consider its options for the future, not limited to its current portfolio of oil assets.
Source: FAR Ltd