The end of this year is set to make 2020 the year with the fewest concluded licensing rounds of the 21st century, a Rystad Energy analysis shows, as only 43 rounds have been completed so far, with very little upside potential left. Awarded acreage is estimated to be the lowest since 2002 at just over 324,000 sq kms, with Norway being this year's global leader in total licensed area.
Licensing rounds have been growing every single year since the previous downturn, reaching a high of 98 concluded rounds in 2019, a figure that illustrates how devastating 2020's decline has been. The count of completed licensing rounds is not expected to increase by much in 2021 either, with total awarded acreage likely to remain below 500,000 sq kms.
Australia leads the lease round tally this year as seven lease rounds were concluded, covering different regions, both onshore and offshore. The US follows with four lease rounds: two in the Gulf of Mexico, one in Alaska and one in the Beaufort Sea. Results from two more rounds could come by year-end, but even so, the count will still remain the lowest of the century in 2020.
'Even though many regulatory authorities are now conducting licensing virtually, most licensing activity still involves technical data review. This has been impacted this year by travel restrictions for personnel, and also by a lack of sufficient funds from exploration companies,' says Aatisha Mahajan, senior upstream analyst at Rystad Energy.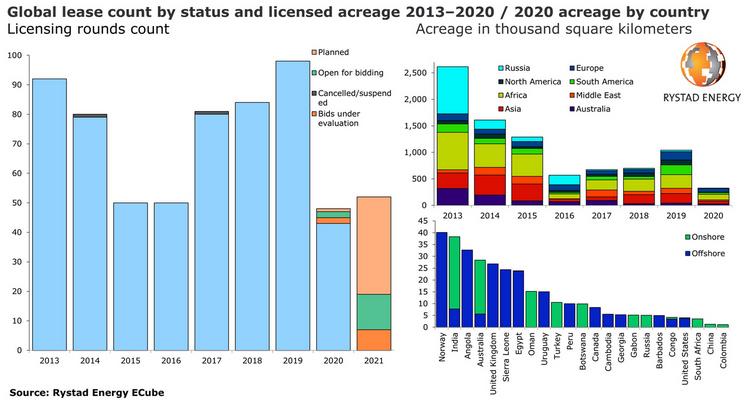 Learn more in Rystad Energy's ECube.
The decline affects almost all continents, with acreage awards in Asia the hardest hit in terms of size at less than one-quarter of the 2019 level. Shelved exploration plans caused new acreage in the Middle East to drop to 20,000 square kilometers this year from 100,000 km2 in 2019, while South American licensed acreage shrank to just 12,000 km2 from 180,000 km2 as all licensing rounds in Brazil were delayed. Africa was initially expected to be the exploration licensing hotspot for 2020 but ended up with 64% less acreage licensed this year compared to 2019.
Looking at the global licensed acreage in 2020 by country, the largest area was awarded in Norway's APA round, followed by India's two concluded OALP rounds. Angola, Australia and the UK take the next spots on the ranking. The awarded acreage in these top five countries all comes from more mature basins. However, frontier basins also attracted substantial interest, especially the Herodotus basin in Egypt, and Sierra Leone in West Africa.
In terms of companies, India's national oil company ONGC (India) acquired the most acreage last year with awards in the domestic OALP rounds, followed by London-based Deltic Energy which picked up substantial acreage in Sierra Leone. Majors like ExxonMobil, Total, Chevron and Shell are also among the top 10 companies with an average of 15,000 km2 each in new licensed acreage.
We expect next year's licensing activity to continue to be dominated by countries like Suriname, Guyana, the US, Norway, Israel, India, China, Malaysia, Egypt and the UAE. Other countries may not announce their licensing schedules until the second half of next year as they wait for interest to pick up, including Indonesia, Myanmar, Thailand, Algeria, Tanzania, Equatorial Guinea, Ecuador and Barbados.
For more analysis, insights and reports, clients and non-clients can apply for access to Rystad Energy's Free Solutions and get a taste of our data and analytics universe.
Source: Rystad Energy