Predator Oil & Gas has provided an update on its operations in Trinidad, Morocco and Ireland.
Morocco
Following the successful completion of permitting and survey requirements, Predator Gas Ventures Morocco Branch ('PGVMB') has awarded the contract for the construction of the MOU-1 well pad platform and the improvement and extension of up to 5 kms of access roads to Moroccan company Skayavers Sarl. Civil works are to start immediately to facilitate the commencement of drilling activities next month. The MOU-1 well is located in the Guercif licence, which is prospective for Tertiary gas in prospects less than 10 kms from the Maghreb gas pipeline.
A further update on progress will be given upon completion of the well pad platform and the upgrade of access roads and tracks.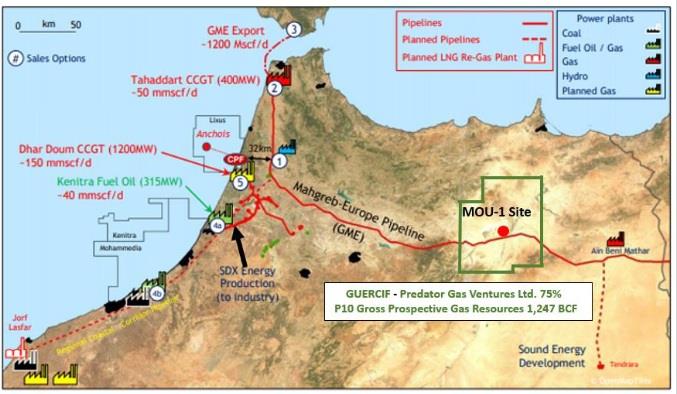 Trinidad
Inniss-Trinity C02 EOR
C02 injection recommenced, after receiving all regulatory consents and permits, at the AT-5X well on 1 April 2021.
By 18 May 159.7 metric tonnes of C02 had been injected, compared to 461.73 metric tonnes in 2020. Cumulative volume of C02 injected for 2020 and 2021 as of 18 May 2021 is 621.43 metric tonnes.
C02 injection has only been conducted during daylight hours to align operational activity with local COVID-19 restrictions and recently introduced lockdown curfews.
Based on the results of the 2020 Pilot C02 EOR project and reservoir engineering forecasts, it was estimated that an average daily C02 injection rate of 10 metric tonnes would be needed to increase reservoir pressures to the required level in order to optimise enhanced oil production. However based on the real-time downhole reservoir pressure data collected from 1 April to 18 May 2021, the rate of reservoir pressure build-up at AT-5X appears to be moderately more effective than the pre-injection forecasts predicted. This is despite the smaller cumulative volume of C02 injected compared to last year. As a consequence of these unexpected but positive results to date, the current C02 injection programme will remain unchanged, but closely monitored, for the immediate future.
Based on the 2020 Pilot C02 EOR data, the potential impact of C02 injection on enhanced oil production will not be realised until at least 62 days from first C02 injection on 1 April 2021. Further analysis of the results and the impact on enhanced oil production at the monitoring well will therefore be carried out in June. Previously identified wells requiring workovers to return the wells to production will be prioritised at that time based on those wells showing the first response to cumulative C02 injection.

Heads of Agreement for C02 EOR Services
Predator Oil & Gas Trinidad ('POGT') has executed a Heads of Agreement (the 'HOA') with an operator of onshore licences in Trinidad with significant oil production The HOA provides the framework and milestones to be achieved for the provision of POGT's C02 EOR Services and know-how to design and implement a C02 EOR project for sands within the Cruse Formation in a part of a producing field identified in the HOA.
Further details will be provided in the coming weeks.
Heads of Agreement regarding the development and implementation of a C02 EOR Joint Venture Service Entity Project in Trinidad
Predator Oil & Gas Trinidad ('POGT') has executed a Collaboration Agreement (the 'CA') with a leading Trinidadian industrial company to further enhance the effectiveness, both economic and financial, of the implementation of CO2 EOR projects. The CA outlines strategic objectives covering subsurface technical evaluation, engineering design and project execution, operating procedures, environmental and HSE compliance protocols and the financial basis for the implementation of new C02 EOR projects.
Further details will be provided in the coming weeks.
Floating Storage and Regasification Units ('FSRU') for importing LNG
Morocco
PGVMB is submitting a response to AMI No.1/DC/2021 dated 26 April 2021 issued by the Department of Energy and Mines Fuel Department in Morocco: 'Call for expressions of interest in the Construction and operation of a FSRU' for Morocco to import LNG. Deadline for submissions is 31 May 2021.
The initial scope of the FSRU project is for an annual requirement of 1.1 BCM by 2025 rising to 1.7 BCM in 2030 and 3 BCM in 2040. By comparison Predator LNG Ireland Ltd has a scoping annual requirement of 2.6 BCM for its FSRU design concept for the Republic of Ireland ('ROI').
PGVMB is utilising its experience and know-how that it has acquired through the development of its FSRU concept for security and diversity of energy supply for the ROI together with management's involvement with infrastructure stakeholders and regulatory authorities developed over many years in the gas sector in the ROI.
The FSRU project is envisaged to be a much longer term project that does not compete with the Company's short- and medium-term plans to explore for, appraise and develop gas in its Guercif licence onshore northern Morocco. It is potentially a complementary addition to the Company's business development strategy for Morocco to increase both materiality and the potential for future gas exports to Europe once the domestic Moroccan gas market reaches capacity. Guercif is ideally located adjacent to the Maghreb gas pipeline to support multiple development scenarios both for the domestic and international gas markets.
Discussions and negotiations continue regarding the potential for three additional Collaboration Agreements with European companies specifically in relation to the FSRU concept both in the ROI and Morocco that potentially may lead to further announcements in the coming weeks should these discussions and negotiations successfully conclude on terms acceptable to the Company.
Paul Griffiths, CEO of Predator Oil & Gas Holdings, commented:
'The preparation of the MOU-1 drilling location is an important milestone paving the way for the drilling operations to start during June, subject to the timing of the completion of the current SDX Energy drilling programme in the Rharb Basin. However today's announcement also shows that we continue to develop new business relationships and opportunities to ensure that we maintain the ability to attract substantive industry partners capable of financing key parts of our business development strategy when required to do so.'
See Predator's Corporate Presentation July 2020 for technical details
Source: Predator Oil & Gas