News listings
energy-pedia exploration

Ghana
Ghana: Accra Joint Venture awards drilling contract for Starfish-1 well offshore Ghana
08 Apr 2013

JV partner Tap Oil has announced the award by the Accra Joint Venture of the Drilling Rig Services contract for the drilling of the Starfish Prospect to Stena Drilling. The Starfish-1 well will be drilled by the Stena DrillMAX, Dual Derrick Drillship which has recently drilled eight efficient and successful wells in Ghana. Stena Drilling has extensive experience in Ghana and is providing this latest generation rig at competitive day rates in conjunction with an existing West African drilling program, thereby minimising mobilisation and demobilisation charges for the Accra Joint Venture.

Starfish-1 is a wildcat well expected to spud in June 2013. The well will target a large, fan complex in the deep water of eastern Ghana, interpreted to be potentially comparable to the Jubilee field in western Ghana. Tap estimates that the well will target prospective resources potentially in the order of half a billion barrels (431 mmbbls (P50); 665mmbbls (PMean)).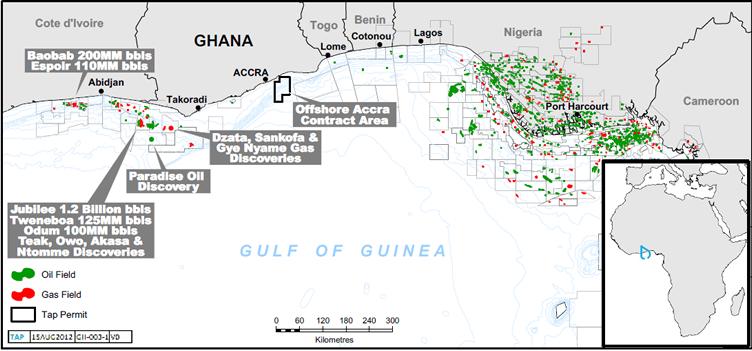 The Offshore Accra Contract Area is located in an emerging oil province on the West Africa Transform Margin, along the northern Gulf of Guinea. A number of discoveries have been made in a variety of comparable geological settings along this margin. In 2007, the Jubilee field (one of the largest oil discoveries in the world in 2007) was discovered by Kosmos Energy and Tullow Oil, establishing a new deepwater play offshore Ghana. Subsequent discoveries in Ghana (Tweneboa, Odum, Owo, Teak, Akasa, Dzata, Sankofa, Gye Nyame and Paradise) and in the Liberian Basin (Venus and Mercury) have further demonstrated the potential that exists along the whole margin.
The Accra Joint Venture, with participating interests, comprises: Ophir Ghana (Accra) (Operator) 20%; Afex Oil (Ghana) 20%; Vitol Upstream (Accra) 30%; Rialto Energy (Ghana)* 12.5%; Tap Oil (Ghana) 17.5%; Ghana National Petroleum Corp** 10% carried.
* The entry of Rialto Energy (Ghana) remains conditional on it providing a letter of credit in respect of its participating interest share of the approved work program and budget for the current Exploration Period.
**Carried by the other parties in proportion to their Participating interest. GNPC has the option of increasing its interest in the event of a commercial discovery.
Source: Tap Oil
back to top